BBC News Home
Top Stories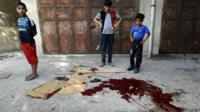 Gaza and southern Israel see an upsurge in violence despite a plea by the UN secretary general for a cessation of hostilities.
NHS privatisation is "being forced through at pace and scale" says shadow health secretary Andy Burnham, as he calls for it to be halted until after the general election.
More clarification is needed about the circumstances in which cases of "revenge porn" can be prosecuted, peers say.
Conservative MP David Ruffley, who had been criticised after receiving a police caution for common assault, is to retire from Parliament at the next election.
A man admits stealing £300,000 intended for the armed forces charity Help for Heroes.
Ministers have been working on a policy that could bring major changes to England's student loan system, and possibly higher university fees, Newsnight learns.
Lightning strikes, hail, torrential rain and flash flooding cause homes to be evacuated and bring road and rail transport to a standstill.
Security officials in Ukraine say the Malaysia Airlines jet downed in eastern Ukraine suffered an explosive loss of pressure caused by missile shrapnel.
Tuesday's papers are full of Bank of England governor Mark Carney's angry words at financiers found guilty of rigging interest rates, and the Times has potential bad news for some drivers.
David Cameron says he and fellow European leaders agree that "strong" economic sanctions should be imposed on Russia as soon as possible.
A driver who knocked down and killed a boy on a footpath eight years ago is back in jail after leading police on a high-speed pursuit.
Commonwealth Games
Latest stories
England's Adam Gemili wins Commonwealth Games silver in the men's 100m, with Jamaica's Kemar Bailey-Cole taking gold.