BBC News Home
Top Stories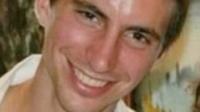 The military wing of the Islamist group insists it is not holding a missing Israel soldier and says he could have died in an Israeli air strike.
An ex-defence minister condemns Israel's Gaza offensive after a ceasefire fails, as the foreign secretary says both sides must "act proportionately".
The Foreign Office says operations at the British embassy in Tripoli are to be temporarily suspended as violence worsens in Libya.
An online campaign for a baby with Down's Syndrome left with his surrogate Thai mother by an Australian couple raises more than £70,000.
An investigation backs the British Medical Journal's handling of two controversial and inaccurate articles it ran on the harms of cholesterol-reducing statins.
Foreign drivers cost councils millions of pounds every year in unpaid parking fines, the Local Government Association says.
The Ebola outbreak is spreading faster than efforts to control it, the head of the World Health Organization tells West African leaders.
A team of 70 Dutch and Australian forensic experts finds human remains at the site of the flight MH17 crash in east Ukraine as fighting continues.
The collapse of a ceasefire in Gaza makes front-page news for several papers, while others focus on consumer affairs.
A fire that ripped through Eastbourne Pier is now feared to have been started deliberately.
A man is cleared of killing his son who died as a result of severe brain injuries caused 12 years ago when he was shaken as a baby.
Northern Ireland First Minister Peter Robinson says child sex abuse at Kincora Boys' Home is a "national scandal" that needs to be fully investigated.
Commonwealth Games
Latest stories
Former Chelsea midfielder Frank Lampard is set to join Manchester City on a loan deal from New York City FC.