BBC News Home
Top Stories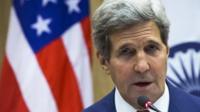 Israel and Hamas agree to an unconditional 72-hour humanitarian ceasefire to begin on Friday morning, after 24 days of fighting between the two sides.
A project aiming to revolutionise medicine by unlocking the secrets of DNA is under way in centres across England.
A series of gas explosions in the southern Taiwanese city of Kaohsiung kills at least 22 people and injures more than 200 others.
The treatment of employees in public services who raise concerns about wrongdoing is often "shocking", a group of MPs says.
The exams regulator Ofqual is to collect information on how many private school students receive extra time in exams, compared with state pupils.
A 23-year-old man is arrested in west London - and later bailed - on suspicion of raising money for terrorism in Syria.
Three Britons, including two children, were killed after their car was involved in a crash with a truck in Croatia, local police say.
The World Health Organization and presidents of West African nations affected by the Ebola outbreak are to announce a joint $100m response plan.
The announcement of £300m in funding for a plan to map DNA profiles in a bid to fight health problems such as cancer features in several papers.
A new law imposing restrictions on bloggers and social media users has come into effect in Russia.
A newly discovered way to make entire bodies transparent could pave the way for a new generation of treatments, scientists say.
Police hunting for a man wanted over the stabbing of a children's TV actor offer a £10,000 reward for information leading to his arrest and prosecution.
Commonwealth Games