Markets
Asia Pacific: Indexes
Tokyo
Bombay
Colombo
Hong Kong
Lahore
Shanghai
Sydney
Hang Seng
As of 06:11 27 June 2016 - Market closed
index value

20259.13
index change:

-609.21
index change percentage: down

-2.92%
Open

20483.51
Previous close

20259.13
52 week high

27145.75
52 week low

18319.58
All market data carried by BBC News is provided by Digital Look. The data is for your general information and enjoy indicative status only. Neither the BBC nor Digital Look accept any responsibility for their accuracy or for any use to which they may be put. All share prices and market indexes delayed at least 15 minutes, NYSE 20 minutes.
Previous close
Latest updates
Asian Market Reports
24.06.2016
09:06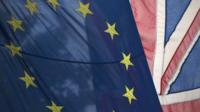 Asian shares fall sharply as investors react to the UK voting to leave the European Union, with Japan's Nikkei slumping 7.9%.
23.06.2016
09:38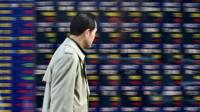 Japanese shares traded higher on Wednesday, leading a mixed picture elsewhere in Asia.
21.06.2016
09:32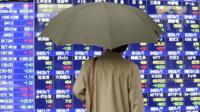 Japanese shares continue to climb after Monday's strong rally, with the country's Nikkei index leading gains across Asia.
20.06.2016
07:59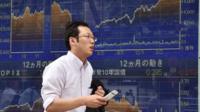 Shares in Tokyo and Hong Kong start the week with strong gains.
17.06.2016
09:50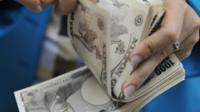 Japan's stock market recovers from four-month lows to close up more than 1%.
07:31
Markets: Nikkei adds more than 1%
Japan's Nikkei 225 ended 1.1% higher.
But the index is still 6% lower this week, thanks to a surge in the yen.
16.06.2016
10:06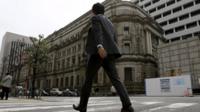 The Nikkei ends down 3% for the second time this week as another rise in the Japanese yen against the dollar threatens exporters prospects.
06:01
Markets: Shares in Tokyo and Hong Kong slide
In Japan the benchmark share index, the Nikkei 225 is down more than 2%. Shares there have been hurt by the strengthening yen, which hit its highest level against the dollar in 21 months.
The yen moved higher after the Bank of Japan decided not to introduce fresh economic stimulus.
Shares in Hong Kong were also down, the Hang Seng fell almost 2%.
But the Shanghai Composite was little changed.
Government bond prices have continued to strengthen, as investors seek safe places for their money.
15.06.2016
09:47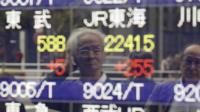 Stocks in Japan defy the global sell-off to close higher, ending a four-session losing streak
06:01
Markets: Asian shares trade higher; Pound edges higher
Despite being snubbed by MSCI (see earlier post) Chinese shares are trading higher, with the Shanghai Composite adding 1.5%.
In Tokyo the Nikkei 225 is up 0.6%, which could end a four-day losing run. Shares in big exporters recovered after recent sharp losses.
Meanwhile the pound has recovered a little from Tuesday's fall. It's trading at $1.4137 up 0.15%.
Back to top