Markets
Asia Pacific: Indexes
Tokyo
Bombay
Colombo
Hong Kong
Lahore
Shanghai
Sydney
Hang Seng
As of 01:46 29 May 2016 - Market closed
index value

20576.77
index change:

179.66
index change percentage: up

0.88%
Open

20425.00
Previous close

20576.77
52 week high

27657.47
52 week low

18319.58
All market data carried by BBC News is provided by Digital Look. The data is for your general information and enjoy indicative status only. Neither the BBC nor Digital Look accept any responsibility for their accuracy or for any use to which they may be put. All share prices and market indexes delayed at least 15 minutes, NYSE 20 minutes.
Previous close
Latest updates
Asian Market Reports
Yesterday 27.05.2016
07:44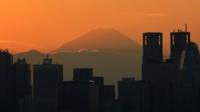 Japanese shares close slightly higher on hopes that the government might delay a rise in the nation's sales tax.
26.05.2016
09:47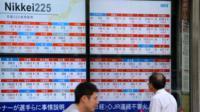 Japan's Nikkei index closes flat, after an earlier rally loses momentum.
25.05.2016
07:55
Nikkei closes 1.6% up
Japanese shares moved higher on Wednesday, following a strong performance on Wall Street overnight. US markets finished sharply higher, with technology and banking stocks helping the S&P 500 to rise 1.4%. 
Toyko's benchmark Nikkei 225 closed up 1.6% at 16,757.35 points. Shares in the world's leading car maker Toyota rose by 2.3% on the news the company had struck ties with ride-sharing pioneer Uber.
In China, the mainland Shanghai Composite was flat at 2,818.49 while Hong Kong's Hang Seng traded 2.7% higher at 20,377.33. 
Australian shares bounced back from a two-year low with the ASX/200 rising by 1.5% to wrap the day at 5,372.50. In South Korea, the benchmark Kospi index moved 1.2% up to finish at 1,960.51 points. 
Shares in Samsung Electronics saw a 1.9% rise, despite a patent lawsuit filed against the firm by Chinese competitor Huawei.  
24.05.2016
09:49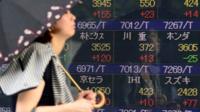 Japanese shares end Tuesday lower, with stocks hit by lower oil prices and a firmer yen.
23.05.2016
09:12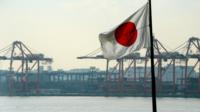 Japanese shares have been pulled down by a sharp drop in the country's exports, which fell for the seventh consecutive month.
20.05.2016
11:44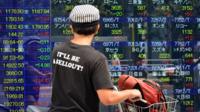 Japanese stocks rose on Friday, shrugging off falls on Wall Street that were triggered by the possibility of an early US rate rise.
19.05.2016
09:31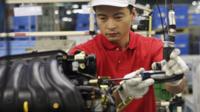 Asian share markets fall after minutes from the US central bank suggest it could raise interest rates in June.
18.05.2016
10:57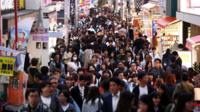 Japanese stocks end little changed after data shows the country's economy avoided a recession in the first three months of the year.
17.05.2016
11:20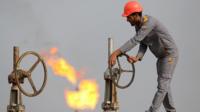 Asian stock markets rally on Tuesday after crude oil prices hit a six-month high, sparking gains in energy-related shares.
06:26
Asian markets: Oil higher, Japan higher
Tokyo's Nikkei 225 was 0.9% higher, with energy shares boosted by higher oil prices.
However analysts say there is some caution before first quarter growth figures which are released on Wednesday.
Elsewhere the Shanghai Composite was down 0.4%, but Hong Kong's Hang Seng rose 0.2%.
North Sea Brent Crude is up $1.19 at $49.02 per barrel.
"The increasing intensity in supply-side disruptions in the oil market should see prices well supported in the short term," ANZ said in a research note. 
Back to top