Markets
Asia Pacific: Indexes
Tokyo
Bombay
Colombo
Hong Kong
Lahore
Shanghai
Sydney
Nikkei 225
As of 15:15 22 March 2018 - Market closed
index value

21591.99
index change:

211.02
index change percentage: up

0.99%
Open

21352.16
Previous close

21591.99
52 week high

24124.15
52 week low

18335.63
All market data carried by BBC News is provided by Digital Look. The data is for your general information and enjoy indicative status only. Neither the BBC nor Digital Look accept any responsibility for their accuracy or for any use to which they may be put. All share prices and market indexes delayed at least 15 minutes, NYSE 20 minutes.
Previous close
Latest updates
Asian Market Reports
Today 22.03.2018
06:32
Asia markets choppy after Fed rate hike
Markets in Asia were choppy on Thursday following a decision by the US Federal Reserve to raise its benchmark interest rate.
Citing a strengthened economic outlook, the US central bank said it had decided to raise the rate by 0.25 basis points to a target range of 1.5% to 1.75%.
The benchmark Nikkei 225 finished the day 1% higher to 21,591.99 points after being closed for a public holiday on Wednesday.
In Australia, the S&P/ASX 200 finished lower by 0.22% to 5,937.2 points, dragged down by some of the country's biggest lenders.
Meanwhile, South Korea's benchmark Kospi index finished up 0.31% to 2,492.97.
In China, Hong Kong's Hang Seng index was down 0.45% in mid-afternoon trade, together with the Shanghai Composite, which was also down 0.45%.
16.03.2018
07:32
Electronics firms lead Japanese shares lower
Japan's benchmark Nikkiei 225 finished the day down 0.6% to 21,676 points, dragged lower by some of the bigger firms on the index.
Electronics giant TDK Corp finished down 3%, while robot maker Fanuc Corp finished lower by 1.6%.
Australia's benchmark S&P/ASX 200 index was a bright spot in the region, finishing up 0.5% to 5949 points.
Wesfarmers gave the index a boost, with shares in the retail-to-mining giant rising more than 6% on news it was set to spin off its Coles supermarket arm. The national supermarket chain costs more to run than it earns.
South Korea's benchmark Kospi index finished flat at 2,493 points.
In China, Hong Kong's Hang Seng index was down 0.39% in late afternoon trade, together with the Shanghai Composite, which was down 0.6%.
09.03.2018
09:24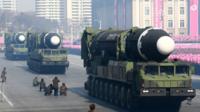 Shock prospect of Donald Trump meeting Kim Jong-un raises hopes of a more stable global economy.
08.03.2018
08:45
Asian markets rebound as trade fears subside
Asian shares found relief on Thursday after US President Donald Trump signalled there might some exemptions to his proposed tariffs on steel and aluminium.
The Nikkei closed 0.54% higher at 21368.07, while the Kospi and emerging market indexes also posted gains.
Hong Kong's Hang Seng climbed 1.52% to close at 30654.52, while the mainland indexes also gained.
Australia's ASX 200 edged 0.69% higher to 5,942.90.
07.03.2018
09:10
Trump advisor quitting pushes down Asian markets
Shares in Asia fell on Wednesday.
Not helping confidence was the resignation of Donald Trump's top economic advisor Gary Cohn.
Mr Cohn is a strong advocate of free trade and his departure has ratcheted up fears the US president will push ahead with protectionist tariffs and start a global trade war.
Japan's Nikkei 225 index dropped 0.8% to 21,252.7 points while in Hong Kong, the Hang Seng index fell 1% to 30,196.9.
Meanwhile China's main Shanghai Composite index was down 0.5% at 3,271.7.
06.03.2018
11:11
Hong Kong rallies
Hong Kong shares leapt on Tuesday, clawing back a decent chunk of recent losses as fears abated that a global trade war was in the offing following Donald Trump's announcement on planned tariffs.
The Hang Seng Index jumped 2.1% to end at 30,510 points.
Meanwhile, the Shanghai Composite added 1% to 3,289 points.
05.03.2018
10:03
Japan shares close near to a five-month low
Tokyo's benchmark Nikkei index closed at an almost five-month low Monday.
Steelmakers and other exporters falling amid lingering worries of a trade war - with a strong yen also hurting stocks in those firms.
The Nikkei 225 index slipped 0.7% or 139.6 points to 21,042.1 - the lowest since mid-October.
02.03.2018
08:27
China stocks hit by Trump's steel tariffs
China stocks fell this morning, weighed down by steel and aluminium makers after Donald Trump announced hefty tariffs on import of the metals.
Investors were also cautious ahead of next week's National People's Congress gathering in Beijing, and are increasingly concerned about the risks of faster US interest rate hikes.
The blue-chip CSI300 index fell 0.8% to 4,016.46 points, while the Shanghai Composite Index lost 0.6% to 3,254.53.
Major steel maker Baoshan Iron & Steel fell 3.9%, while Aluminium Corp of China was 2% lower.
27.02.2018
10:00
Good day for Japanese shares
Tokyo stocks rallied on Tuesday, with investors following another Wall Street surge driven by easing fears about inflation.
The benchmark Nikkei 225 index jumped 1.1% or 236.23 points, to close at 22,389.9. And the broader Topix index was up 0.9%
But elsewhere things were less rosy. The Hang Seng index fell 0.7% to 31,268.7 and the Shanghai Composite index shed 1.1% to 3,329.6.
23.02.2018
08:33
Asian stocks finish higher
Asian markets have followed the positive lead from Wall Street and have wrapped the week on a stronger note.
The region's biggest market, Japan's Nikkei 225, finished 0.7% higher while in South Korea, the Kospi moved 1.5% up.
Australia's benchmark ASX 200 closed 0.8% higher, while in China, the mainland's Shanghai Composite was up 0.6% and Hong Kong's Hang Seng wrapped the day gaining 1%.
Back to top