Markets
FTSE 100
As of 09:15 26 May 2016 - Market open
index value

6271.26
index change:

8.41
index change percentage: up

0.13%
Open

6262.85
Previous close

6262.85
52 week high

7040.92
52 week low

5536.97
All market data carried by BBC News is provided by Digital Look. The data is for your general information and enjoy indicative status only. Neither the BBC nor Digital Look accept any responsibility for their accuracy or for any use to which they may be put. All share prices and market indexes delayed at least 15 minutes, NYSE 20 minutes.
Previous close
Latest updates
London Market Reports
Today 26.05.2016
09:09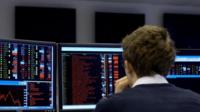 The London market edges higher at the start of trade, but shares in the Daily Mail's parent company slide after it reports falling profits.
Yesterday 25.05.2016
17:06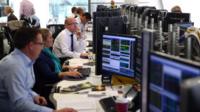 Banking shares help to lift the FTSE 100, but shares in M&S drop after the retailer says its turnaround plan is set to hit profits.
12:28
FTSE 100 update
London's main index hasn't shifted much since the initial rise at the start of trading. The FTSE 100 is up 0.61% at 6,257 points, lifted by banks. Royal Bank of Scotland and HSBC are up around 3.5% amid hopes of more debt relief for Greece. Marks & Spencer remains the stand-out faller, down 7.9% after announcing profit figures that disappointed investors.
09:27
FTSE 100 update
M&S shares extended their losses in early trading, and are now down 8.8% after a warning that there could be a short term hit to profits from changes being introduced to revive the retailer. That also had a knock-on on Next, whose shares fell 2%.
However, the FTSE 100 is up 0.52% at 6,251 points, led by Royal Bank of Scotland, 2.7% higher.
Outside the top flight, Serco rose 12.6% after the outsourcing firm forecast 2016 profits ahead of current market expectations, citing the benefits of several contracts running longer than previous anticipated and others being more profitable.
24.05.2016
17:29
FTSE boosted by Kingfisher and banks
The FTSE 100 closed up 1.35%  (or 83 points) at 6,219.26.
Banks did particularly well over the course of the day.  
 "UK banks are once again in demand, with a reported rise in mortgage activity at Nationwide further enhancing the attractiveness of names like RBS," Chris Beauchamp, senior market analyst at IG, explained in a note. 
The day's biggest gainer was Tesco - up nearly 7%. Mining company Fresnillo was the biggest loser - it shed 3.34%.
Screwfix and B&Q owner Kingfisher rose 3.5% after it reported an increase in first-quarter sales to £2.7bn.
Kingfisher said it had seen a "solid" start to the year with like-for-like sales up 3.6%, with Screwfix sales up 16.2%.
In the UK and Ireland sales rose 6.2%, helped by a 16.2% jump at Screwfix.
16:53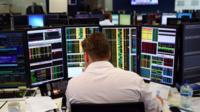 The FTSE 100 rises, with shares in Kingfisher up after "solid" first-quarter sales, while the pound jumps after the latest EU referendum poll.
23.05.2016
12:26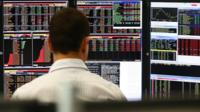 The FTSE 100 closes with modest losses, led by the satellite operator Inmarsat.
12:03
Inmarsat shares trade at 18-month low
Inmarsat is once again the biggest faller on the FTSE 100, down 4% after Morgan Stanley cut its rating on the shares.
Satellite companies have been hurt by worries of oversupply and slowing demand for services such as broadband.
Inmarsat shares, at about £61.40, are trading at an 18-month low.
Meanwhile, the FTSE 100 has sunk back into negative territory after a brief rally fizzled out. The index is down 0.33% at 6,136 points.
The biggest riser is Royal Mail, up 3% after having been a big faller last week.
20.05.2016
16:55
FTSE closes higher as mining stocks climb
After a strong day's trading, the FTSE has closed at 6,148.68 - that's a rise of 95.33 points or 1.57%.
The biggest riser was Coca-Cola HBC after after Citigroup raised its rating on the stock to "buy". It gained 6.4%.
However, as a sector the best performer was mining off the back of increases in the price of metal. 
And in New York the main index - Dow Jones, Nasdaq and S&P 500 - are all still up as well.   
16:44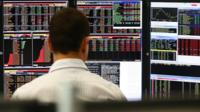 The London market jumps more than 1% as mining shares recover, while Ladbrokes surges following an update from the competition watchdog.
Back to top