Markets
FTSE 100
As of 11:33 30 August 2016 - Market open
index value

6841.84
index change:

3.79
index change percentage: up

0.06%
Open

6838.05
Previous close

6838.05
52 week high

6941.19
52 week low

5536.97
All market data carried by BBC News is provided by Digital Look. The data is for your general information and enjoy indicative status only. Neither the BBC nor Digital Look accept any responsibility for their accuracy or for any use to which they may be put. All share prices and market indexes delayed at least 15 minutes, NYSE 20 minutes.
Previous close
Latest updates
London Market Reports
Today 30.08.2016
10:58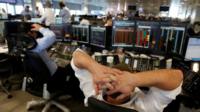 London's benchmark share index is little changed after the bank holiday weekend, but shares in Bunzl rise after it reports a rise in profits.
26.08.2016
17:04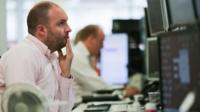 London's benchmark share index closes higher after the Federal Reserve head Janet Yellen said the case for a rate rise had "strengthened".
16:55
Breaking
FTSE gains after Yellen speech
The FTSE 100 has finished 0.3% higher at 6,838 points. It had been bumping along for most of the day at about 6,820 but gained after Federal Reserve chairwoman Janet Yellen said the case for a US rate rise had "strengthened". 
Mining stocks - which were already doing well before Yellen's speech - dominated the leader board. Rio Tinto, BHP Billiton and Glencore all rose more than 3%.
Drugmakers were among the biggest fallers again, as a price-hike controversy in the US continues to infect European healthcare stocks.
The FTSE 250 of mid-cap UK firms also gained 0.3% at 17,931.
08:12
Breaking
FTSE slips
The London blue-chip market is a mere 2 points higher at 6,819 points as trading gets underway for the last time this week.
Meanwhile, the FTSE 250 is 5 points lower at 17,877 points.
Despite slumping to a hefty half-year loss, shares in The Restaurant Group are up about 2.8% at 418.7p. However, the stock is still down 40% this year.
On the continent, meanwhile, the Dax and the Cac are both slightly higher.
25.08.2016
17:16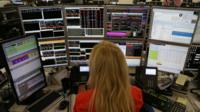 London's leading shares trade lower on Thursday after several big companies go ex-dividend.
16:56
Breaking
Pharma firms drag down FTSE
The FTSE 100 finished 19 points lower at 6,816.90 points, with healthcare firms among the biggest fallers. Hikma Pharmaceuticals took the heaviest hit on the blue chip index, falling 3.8%, while drug maker Shire fell 2.5%.
The roots of the sell-off are on the other side of the Atlantic, where a controversy about price hikes on Epipens has hit US pharmaceutical shares.  
"European healthcare stocks have been caught in the storm of a US biotech sell-off," said Jasper Lawler of CMC Markets. "Another attack on price gauging in the industry from presidential hopeful Hillary Clinton puts pricing power in the industry at risk."
12:55
FTSE update
The 14% slide in Entertainment One shares has dragged the FTSE 250 about 1% lower in afternoon trading to 17,840 points. The Peppa Pig owner is by far the biggest faller, while challenger banks Shawbrook and Aldermore are both up 9.6% and 5.6% respectively. 
On the FTSE 100, meanwhile, Irish buildings supplies company CRH is the biggest riser after reporting a 35% rise in sales to €12.7bn for the first half, while Hikma Pharmaceuticals is the biggest loser thus far, down 4.3%.
08:19
Breaking
FTSE falls
The FTSE 100 is struggling to remain over 6,800 points this morning following a 0.5% fall in early trading.
Shire is the biggest faller, down 2.8%, while CRH is at the top of the risers' board, with a 0.9% rise.
24.08.2016
17:04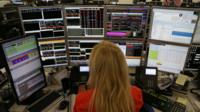 The FTSE 100 index slips as Glencore shares are hit by its latest results, but WPP jumps as strong sales bolster the ad giant.
08:51
FTSE trims losses
The FTSE 100 has pared some of its earlier losses to be down 0.23% after losing 0.5% earlier.
The biggest faller is Old Mutual, down 3%, followed by Glencore with a 2.7% slide after reporting a fall in underlying profit and lowering its debt target.
WPP has extended its gains to be almost 5% higher and top of the leaders board after first-half sales beat forecasts.  
Back to top