Markets
FTSE 100
As of 23:10 19 January 2017 - Market closed
index value

7208.44
index change:

-39.17
index change percentage: down

-0.54%
Open

7247.61
Previous close

7208.44
52 week high

7337.81
52 week low

5536.97
All market data carried by BBC News is provided by Digital Look. The data is for your general information and enjoy indicative status only. Neither the BBC nor Digital Look accept any responsibility for their accuracy or for any use to which they may be put. All share prices and market indexes delayed at least 15 minutes, NYSE 20 minutes.
Previous close
Latest updates
London Market Reports
Today 19.01.2017
23:05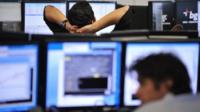 Shares in Halfords jump as it reports strong Christmas sales, but the FTSE 100 falls.
17:19
FTSE closes 0.54% lower
The FTSE 100 closed 39.17 points lower at 7,208.44, as the pound's gains continued to suppress the index.
Royal Mail was the worst performer, shedding 5.99% following a disappointing third-quarter report this morning.
Key commodity stocks also slipped, with Fresnillo down 3.39% and Anglo American losing 3.05%.
The pound is currently 0.44% higher against the dollar at $1.23150, having regained ground following the Prime Minister's Brexit speech earlier this week. 
Shares in the bigger London-listed firms can suffer when sterling rises, as they generate much of their profits overseas in dollars. 
10:33
Markets: Shares down; Pound up
With all the hoopla coming out of Switzerland this morning, we have neglected the markets so far today.
The FTSE 100 is down 0.6%, led by a 6% slump in Royal Mail shares, after it reported a fall in UK sales.
The pound is trading half a cent higher against the dollar at $1.232. The FTSE 100 tends to react negatively to a stronger pound.
In France shares in Safran are leading the main index there higher. Shares in the jet engine maker are 2% higher after announcing a takeover deal for Zodiac Aerospace.
Overall the Cac-40 in Paris is 0.2% lower.
Yesterday 18.01.2017
16:43
FTSE 100 closes slightly higher
London's FTSE 100 closed 0.38% higher at 7,247.61, after struggling to find direction during the day.
Several companies issued profit warnings, which dragged on the index. Publisher Pearson shed almost 30% on warnings its earnings would undershoot, leaving it the day's worst performing stock.
Other fallers included Smurfit Kappa Group, Capita and Experian, all down by more than 2%. However, there was a strong showing from Burberry - up by more than 3% - following positive sales numbers.
17.01.2017
16:59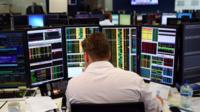 The UK's benchmark share index loses ground as the pound surges following Theresa May's speech on Brexit.
16:56
FTSE ends lower due to surging pound
As expected the FTSE 100 closed lower today, in large part due to an almost 3% jump in the pound following Theresa May's Brexit speech. 
The index lost 1.46%, or 106.75 points, to 7,220.38 points.
The biggest faller was British American Tobacco, which shed nearly 4% after announcing a $49bn deal to buy rival Reynolds. 
Holiday operator Carnival, product testing business Intertek and plumbing giant Wolseley UK - all off which lost more than 3% - also did badly. 
A strong pound tends to reduce London-listed firms' profits, a large proportion of which are generated overseas in dollars. 
12:52
Pound powers higher against the dollar
The pound has continued to power ahead. It's now up 2% at $1.2285.
12:18
Pound continues to rally
The pound continues to climb, now at $1.2247, up 1.7% for the session.
09:52
Pound pushes higher
The pound pushed higher after those stronger-than-expected inflation figures came out.
It traded as high as $1.2182, before easing back to $1.2161, that's still almost 1% higher than Monday's close.
08:40
'Pound still very vulnerable'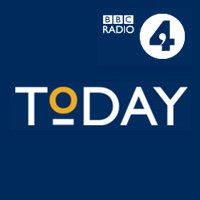 Today Programme
BBC Radio 4
The pound is holding gains made since yesterday. A short while ago it was trading at $1.2126.
However analysts say prepare for volatility.
"By and large the pound is still very, very vulnerable. We've seen that the rallies in the pound, since the EU referendum in June, have been very weak, with the declines very prolonged," said Kathleen Brooks, Research Director at City Index. 
Back to top