Markets
FTSE 100
As of 00:53 25 July 2016 - Market closed
index value

6730.48
index change:

30.59
index change percentage: up

0.46%
Open

6699.89
Previous close

6730.48
52 week high

6752.41
52 week low

5536.97
All market data carried by BBC News is provided by Digital Look. The data is for your general information and enjoy indicative status only. Neither the BBC nor Digital Look accept any responsibility for their accuracy or for any use to which they may be put. All share prices and market indexes delayed at least 15 minutes, NYSE 20 minutes.
Previous close
Latest updates
London Market Reports
22.07.2016
17:39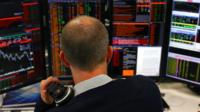 London's main share index - the FTSE 100 - ended higher as data fuelled expectations of Bank of England action to boost the economy.
21.07.2016
17:59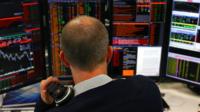 London's main share index, the FTSE 100, closes down, as Easyjet reports weak earnings.
20.07.2016
16:59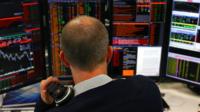 The FTSE 100 is little changed by midday Wednesday, with shares in miners holding back the index.
10:00
Pound spikes after data and BoE comments
The pound jumped against the dollar following the UK's latest employment data and comments from the Bank of England.
At one stage it hit 1.3166. That was up more than a cent from the lowpoint of today's trading.
The Bank of England said that it saw "no clear evidence" that a sharp slowdown was underway after the UK's vote to leave the European Union.
19.07.2016
16:56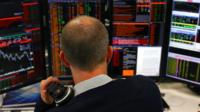 The FTSE closed little changed on Tuesday, with mining companies such as Glencore holding back gains.
09:50
Up and down for the pound
The pound spiked after those inflation figures, reaching $1.3215, before slipping back. 
London Capital Group points out that inflation remains well below the Bank of England's 2% target, which is weighing on the pound. Also, the prospect of an interest rate cut in August is depressing sterling.
18.07.2016
17:06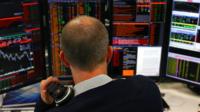 The FTSE closes higher on Monday as shares in ARM Holdings soar by more than 40%.
15.07.2016
17:31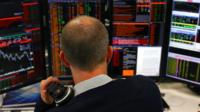 UK shares claw back earlier losses while the pound slides as investors continue to digest the Bank of England's latest rate decision.
14.07.2016
16:43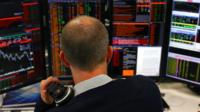 The pound jumps and shares fall after the Bank of England surprises the markets by keeping interest rates on hold.
09:39
Market update
The FTSE is positively perky this morning - up 0.84% to 6,726 - with miners and housebuilders leading the charge.
As for the pound, it is up 0.65% against the dollar at $1,3232 and against the euro it is up 0.54% at €1.1918.
Back to top