Markets
FTSE 100
As of 10:55 28 September 2016 - Market open
index value

6850.6
index change:

42.93
index change percentage: up

0.63%
Open

6807.67
Previous close

6807.67
52 week high

6941.19
52 week low

5536.97
All market data carried by BBC News is provided by Digital Look. The data is for your general information and enjoy indicative status only. Neither the BBC nor Digital Look accept any responsibility for their accuracy or for any use to which they may be put. All share prices and market indexes delayed at least 15 minutes, NYSE 20 minutes.
Previous close
Latest updates
London Market Reports
Today 28.09.2016
09:43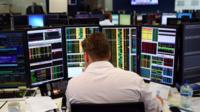 The London market opens higher, with shares in travel firm Tui up after it reports better-than-expected trading.
09:40
Bank of England's Shafik: Further stimulus 'likely'
The UK economy is likely to need more economic stimulus, according to Bank of England Deputy Governor Minouche Shafik.
"There is no doubt in my mind that the UK is experiencing a sizeable economic shock in the wake of the referendum," she said in a speech.
"It seems likely to me that further monetary stimulus will be required at some point in order to help ensure that a slowdown in economic activity doesn't turn into something more pernicious," she said.
That's made the pound a bit wobbly this morning. It dipped below the $1.30 against the US dollar.
08:46
Tui leads FTSE higher
Thompson owner Tui earlier shrugged off travel industry concerns about falling demand for trips abroad.
The travel giant is now the top riser on the FTSE 100, up more than 2.6%, after revenues rose 5%.
Three of the top five risers are miners - but the top loser is also a miner. Randgold is down 0.58% after a fall in the price of gold.
Overall, the FTSE 100 index is around 0.78% higher at 6,859.
08:10
Sainsbury's helps FTSE 100 higher
Sainsbury's shares have opened 0.5% higher after its trading update. 
That's in line with the FTSE 100, which is up 0.4% at 6,840 points.
Moss Bros is up 1.5% after announcing an increase in its payout to shareholders.
07:28
Oil prices rise
Crude oil prices have recovered a bit from Tuesday's slump.
North Sea Brent crude is up 15 cents a barrel at $46.12.
Opec members are due to hold talks later on Wednesday. Saudi Arabia appears keen to organise a production cut, but Iran is less enthusiastic.
On the eve of the meeting Iranian oil minister Bijan Zanganeh said: "It's not in our agenda to reach an agreement in two days. We need time for more consultation."  
07:06
Breaking
Sainsbury's sales fall
Sainsbury's has reported a 1.1% fall in like-for-like sales, excluding fuel, in its second quarter.
It reflects the ongoing price war among supermarkets. Sainsbury's has switched from multi-buy deals to lower prices on individual items.
"We expect the market to remain competitive and the effect of the devaluation of sterling remains unclear. However, Sainsbury's is well positioned to navigate the changing marketplace and we are confident that our strategy will enable us to continue to outperform our major peers," said chief executive Mike Coupe.
Yesterday 27.09.2016
08:07
Breaking
FTSE higher
The FTSE 100 is 0.5% higher at 6,850 points as trading gets underway for another day.
26.09.2016
17:04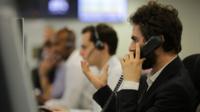 London's stock market falls more than 1% in a widespread sell-off, while the pound flirts with its lowest level against the euro since the Brexit vote.
09:58
FTSE heads further south
The FTSE 100 is now down 1.3% - 87 points - at 6,821 points. Some analysts blame fears about the possibility that Donald Trump could still become US president. 
Connor Campbell at Spreadex notes: "The first televised debate marks the point where Trump vs Clinton will be even more unavoidable than it already is, and therefore has reminded the market that the Brexit, US interest rates and China's economic slowdown aren't the only macro-issues out there to worry about."
BA owner IAG is one of the biggest fallers, down 2.8%, perhaps on the back of the fears about Monarch Airlines, which is not listed. 
EasyJet is also down 1.4%, bringing the slide this year to a stonking 41%. Ouch. 
08:25
Breaking
FTSE slides
Not a great start to the week for the London market: the FTSE 100 is about 0.8% lower at 6,855 points as trading gets underway.
InterContinental Hotels has the wooden spoon thus far, down 3.8%, while MediClinic International is the biggest riser, up 0.9%.
B&Q owner Kingfisher is down 2.2% after UBS downgraded the chain from "buy" to "neutral". The bank's analysts see increased competition in France, with other DIY chains more popular than its Castorama and Brico Depot brands.
Shares hit a two-year high of 387p last week and are trading at 374.5p today.
Back to top