Markets
FTSE 100
As of 06:35 10 December 2016 - Market closed
index value

6954.21
index change:

22.66
index change percentage: up

0.33%
Open

6931.55
Previous close

6954.21
52 week high

7097.50
52 week low

5536.97
All market data carried by BBC News is provided by Digital Look. The data is for your general information and enjoy indicative status only. Neither the BBC nor Digital Look accept any responsibility for their accuracy or for any use to which they may be put. All share prices and market indexes delayed at least 15 minutes, NYSE 20 minutes.
Previous close
Latest updates
London Market Reports
Yesterday 09.12.2016
17:08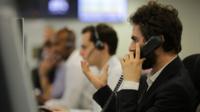 The FTSE 100 sees its fifth consecutive day of gains, with Sky shares staging a late surge.
10:49
FTSE holds onto gains
A quick market update: the FTSE 100 is still marginally up in mid-morning trading at 6,940 points. 
The UK index has risen every day this week and is on course for a rise of 3% since it opened at 6,730 on Monday.
Analysts said it's a case of a rising tide lifting all boats, with Wall Street hitting fresh record highs all week, and Japan's Nikkei and Germany's Dax at their best levels this year.
On the currency markets, the pound is up a touch against the dollar and euro at $1.260 and €1.187.
08.12.2016
17:02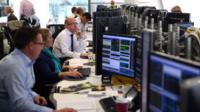 Capita shares sink more than 14% after it issues another profit warning , but the FTSE 100 closes up.
09:10
FTSE holds above 6,900
The FTSE 100 is holding onto the gains it made yesterday when the UK index posted its biggest rise for three months.
It's up eight points at 6,910 in the first hour of trading. 
Ad agency WPP is one of the big winners after its stock was upgraded by analysts at Jefferies.
Outsourcing company Capita is the heaviest faller after it warned that profits for 2016 would drop.
07.12.2016
16:57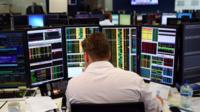 London's main share index closes 1.8% higher, boosted by mining stocks.
06.12.2016
17:03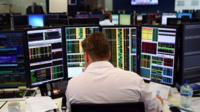 Shares in financial spread betting firms plunge after the Financial Conduct Authority proposes stricter rules for the sector.
12:52
All bets are off
Financial spread betting firms CMC Markets and IG Group continue to drag down the FTSE 250 index. 
They were by far the heaviest fallers, sliding 35% and 33% respectively, as the index dropped 0.2% to 17,430 points in morning trade.
"This is negative - period - and CMC Markets and IG Group - the two that operate to the highest standards in the industry in our opinion - are collateral damage," RBS analysts said in a note. 
"We do not believe that they are the intended targets, but will be negatively impacted nonetheless."
It came as the FTSE 100 edged back into positive territory, led higher by banks and landowner stocks. 
08:43
Spread-betters drag FTSE 250 lower
No surprise that financial spread betting firms are the biggest losers in trading so far in London.
CMC Markets and IG Group are the heaviest fallers on the FTSE 250, down 23% and 22% respectively in the first half hour. Playtech, the gambling software company which is expanding into financial betting, is down 5%. 
They've dragged the index down by about 52 points to 17,410.
London's benchmark FTSE 100 has also opened lower, falling 17 points to 6,730.
05.12.2016
16:55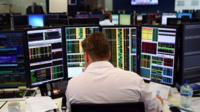 UK shares close higher, as European markets shrug off the result from Italy's referendum.
08:47
European stock markets shrug off Renzi defeat
Investors in European shares seem to have taken a sanguine view of Italian PM Matteo Renzi's referendum defeat.
Germany's Dax is 1.1% higher in the first half hour of trading, while the Paris Cac is up 0.5% and the FTSE 100 is 0.2% higher.
"While the euro has fallen, the reaction of the Eurozone indices suggests that they aren't too worried about the region's current political situation," said Connor Campbell, an analyst at Spreadex.
Back to top