Markets
FTSE 100
As of 02:48 28 June 2017 - Market closed
index value

7434.36
index change:

-12.44
index change percentage: down

-0.17%
Open

7446.80
Previous close

7434.36
52 week high

7547.63
52 week low

5982.20
All market data carried by BBC News is provided by Digital Look. The data is for your general information and enjoy indicative status only. Neither the BBC nor Digital Look accept any responsibility for their accuracy or for any use to which they may be put. All share prices and market indexes delayed at least 15 minutes, NYSE 20 minutes.
Previous close
Latest updates
London Market Reports
Yesterday 27.06.2017
17:19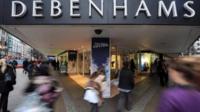 Shares in the department store chain fall as it says May was a tough month for retailers.
16:54
FTSE 100 edges down at close
The FTSE 100 closed a shade lower on Tuesday - at 7,434.36, 12 points or 0.17% down.
All top five climbers were mining companies boosted by firmer prices for some commodities and oil, as well as positive figures on Chinese industrial profits.
Glencore was up by 3.1%, Anglo American 3.34% higher, Rio Tinto 3.22% higher, Antofagasta 3.2% up and BHP Billiton 2.28% up.
The biggest fall was seen by engineering firm GKN which shed 4.39%.
11:25
Markets: Shares rally; Pound up slightly
The FTSE 100 has regained early losses and is now trading more or less flat.
Miners have been propping up the index.
The pound has been bouncing around, but is a touch higher against the dollar, at $1.2743.
09:37
Shares in the car sector hit across Europe
Shares in car markers and companies that make car parts are down all over Europe this morning.
The falls come after German auto supplier Schaeffler slashed its profit guidance for the year, blaming higher steel costs.
It also said the cost of developing electric cars was raising costs.
In Frankfurt, Continental shares are down almost 3% and BMW is down by more than 1%.
In Paris, Peugeot is down by 2.6% and Renault is down by 2%.
And in London, car parts maker GKN is leading the FTSE 100 lower with a 3% fall.
08:12
Market open: Debenhams down; Carpetright up
At around 7,444, the FTSE 100 is little changed in early trading.
Shares in Debenhams are down almost 3%, after it warned of 'volatile' trading conditions.
Carpetright shares have jumped more than 8% after its trading update.
Airlines are also doing well, EasyJet is up 1.2% and IAG, the owner of British Airways, is 0.6% higher.
26.06.2017
17:48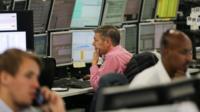 London's blue-chip index closes higher on Monday, led by easyJet and British Airways owner IAG.
23.06.2017
12:53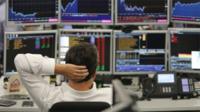 UK shares lose ground but the pound climbs against the dollar.
22.06.2017
17:12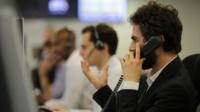 Shares in oil companies weigh on the UK share index as crude prices remain above $45 a barrel.
21.06.2017
17:52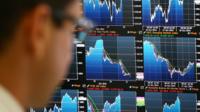 The blue chip index slips after subprime lender sees its shares fall by 17.5%.
20.06.2017
17:05
The blue chip index slips after falls in the price of copper, iron and oil.
Back to top