Markets
Nasdaq
As of 17:49 01 July 2016 - Market closed
index value

4862.57
index change:

19.90
index change percentage: up

0.41%
Open

4837.18
Previous close

4862.57
52 week high

5218.86
52 week low

4266.84
All market data carried by BBC News is provided by Digital Look. The data is for your general information and enjoy indicative status only. Neither the BBC nor Digital Look accept any responsibility for their accuracy or for any use to which they may be put. All share prices and market indexes delayed at least 15 minutes, NYSE 20 minutes.
Previous close
Latest updates
Wall Street Market Reports
Yesterday 30.06.2016
23:11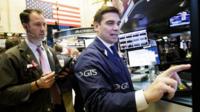 Wall Street closes higher for the third straight trading day as volatility on global markets eases after the UK's referendum vote.
29.06.2016
22:30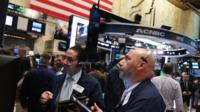 Banks and other financial companies lead another broad surge in US stocks, following strong gains for European markets.
15:09
Wall Street heads higher for second day
Wall Street opened higher for the second day in a row on Wednesday - following on from further rises in Europe. 
Investors are still snapping up shares which have fallen price after the UK's Brexit vote last week. 
A short while ago the Dow Jones was up 0.83% at 17,553.98.
The Nasdaq was at 4,746.25 - a rise of 1.16% and the S&P 500 was at 2,054.87 - that's up 0.92%.
28.06.2016
22:31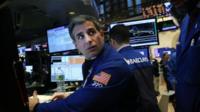 US shares closed higher on Tuesday, recovering some of the ground lost since the UK voted to leave the EU.
21:18
Wall Street claws back some losses
Wall Street recouped some losses on Tuesday - following on from gains seen in Europe earlier. 
Investors were grabbing the opportunity to buy up sales which have fallen sharply in value since the Brexit vote last week. 
The Dow Jones closed up 1.57% at 17,409.72.
Nasdaq was up 2.12% at 4,691.87.
And the S&P 500 ended at 2,036.09 - a rise of 1.78%.
 "After a few days of a lot of volatility, it looks like we have found some stability," said TD Securities' European Head of Currency Strategy Ned Rumpeltin. 
But Paul Nolte, portfolio manager at Kingsview Asset Management said he thought it was a "short-lived rally".
14:50
Wall Street follows Europe higher
Wall Street has followed European exchanges by opening higher today.  
The Dow Jones rose 1.09% to 17,327.06.
The Nasdaq was up 1.40% to 4,658.96.
And the S&P 500 was at 2,022.26 - a rise of 1.09%.
Investors seem to be grabbing the chance to snap up shares which have fallen dramatically because of the uncertainty surrounding the UK's vote to leave the EU.
27.06.2016
22:11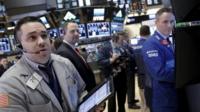 Shares on Wall Street closed sharply lower as the impact of the UK's decision to leave the European Union continued to unsettle investors.
21:23
Wall Street down again on Brexit vote
Wall Street was down sharply again on Monday following last week's Brexit vote.
Major US stock indexes saw their biggest two-day percentage drop for 10 months. 
All three main indexes were down at least 1.5 percent in the wake of Thursday's referendum that has roiled global markets and led investors to seek safe-haven assets. 
The tech-heavy Nasdaq was the worst hit amid fears that fallout from the UK's decision could hit business investment spending in the technology sector. 
Along with tech, materials, energy and financials were the worst-performing sectors. 
"The momentum has continued downward because there continues to be a lot of uncertainty," said Eric Kuby, chief investment officer at North Star Investment Management in Chicago.
"It's important to note that it's orderly. It doesn't feel panic-inspired." 
At the close the the Dow Jones was at 17,140.24 - a fall of 1.50%. 
The Nasdaq was at 4,594.44 - that's down 2.41%.
And the S&P 500 closed down 1.81% at 2,000.54.
24.06.2016
22:25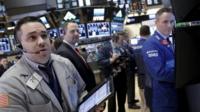 Wall Street followed global markets sharply lower on Friday after the UK's decision to leave the European Union
21:05
Breaking
Wall Street sinks
Wall Street wobbled further in the last hour of trading in New York, with the Dow Jones ending more than 600 points, or 3.4%, lower at 17,400 points - the biggest one-day fall in almost five years.
The S&P 500 fell 3.6% - the biggest daily slide in 10 months - while the Nasdaq slumped 4.1%. That was the tech-focused index's worst day since 2011.
Back to top