Markets
Nasdaq
As of 17:15 19 January 2017 - Market closed
index value

5540.08
index change:

-15.57
index change percentage: down

-0.28%
Open

5560.61
Previous close

5540.08
52 week high

5574.12
52 week low

4266.84
All market data carried by BBC News is provided by Digital Look. The data is for your general information and enjoy indicative status only. Neither the BBC nor Digital Look accept any responsibility for their accuracy or for any use to which they may be put. All share prices and market indexes delayed at least 15 minutes, NYSE 20 minutes.
Previous close
Latest updates
Wall Street Market Reports
Yesterday 19.01.2017
23:14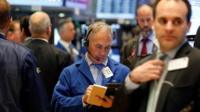 US share indexes edge down at the close, with investors remaining cautious ahead of Donald Trump's inauguration.
21:12
US stocks close lower
US stocks closed lower on Thursday as investors avoided making risky bets ahead of Donald Trump's inauguration. 
The Dow Jones lost 0.37% to 19,732.40, the S&P 500 was down 0.36% at 2,263.69, and the Nasdaq was 0.28% lower at 5,540.08.
The dollar shed 0.3% against the euro to €0.93790.
Peter Tuz of Chase Investment Counsel told Reuters: "People are little bit jittery ahead of the inauguration and after the rally we've had. I'm not surprised the market is down."
On Thursday, spokesman Sean Spicer told reporters that Mr Trump would begin "enacting an agenda of real change" within the first few days of his presidency. 
15:06
Mixed start for Wall Street
It looks like US investors are still feeling nervous ahead of Donald Trump's inauguration tomorrow. 
The Dow Jones and S&P 500 both opened higher but have now slipped into the red. The former is 0.07% lower at 19,791.36 points while the latter is down by 0.06%, at 2,270.55.
The Nasdaq is climbing though - up 0.2% at 5,567.83.
18.01.2017
21:26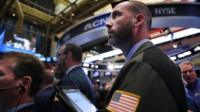 US share indexes close flat on Wednesday despite strong results from Goldman Sachs and Citigroup.
21:05
US stocks end Wednesday flat
US stocks ended flat on Wednesday, having been little moved by a speech from Federal Reserve chief Janet Yellen that suggested the US would get a "nasty surprise" if it waits too long to raise interest rates again. 
The Dow Jones lost 22.12 points, falling to 19,804.65, the S&P 500 gained 3.99 points, rising to 2,271.88, and the Nasdaq 16.93 rose 16.93 points to 5,555.65.
Analysts say stocks have been in a holding pattern in recent weeks, as investors await the inauguration of Donald Trump as president.
This brought to an end a two-month rally that was spurred by Mr Trump's surprise victory in November. 
Katie Nixon of Northern Trust Wealth Management said: "It's natural after such a remarkable run post-election to have a bit of a flat, quiet period as investors wait for some more tangibles. 
"We know directionally where Donald Trump wants to go, and with a Republican Congress he's got a higher probability of success than otherwise, but we don't have the details." 
14:49
Mixed start for Wall Street
It's a mixed start for Wall Street, as investors mull economic data and earnings from several banks, while awaiting a speech from federal Reserve Chief Janet Yellen.  
The Dow Jones has lost 0.3% to 19,770.35, the S&P 500 is flat at 2,267.70, and the Nasdaq is down 0.2% at 5,548.81.
Along with a reported rise in CPI inflation, the US also recorded faster industrial growth in December at 0.8% - up from 0.7% in November. 
17.01.2017
22:01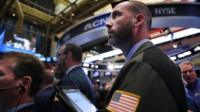 US stock markets finish lower as bank and healthcare shares see some of the biggest falls.
21:22
Wall Street ends Tuesday lower
Wall Street markets closed lower on Tuesday as banks and financial stocks weighed on the major indexes.
The Dow Jones shed 0.3% to 19,826.77, the S&P 500 closed 0.3% lower at 2,267.89, and the Nasdaq lost 0.63% to 5,538.73.
Biotech and pharma stocks slipped after Donald Trump said in an interview that he would target companies over drug pricing and that he was ready to unveil a plan to replace Obamacare.
Bank stocks - which have rallied since Mr Trump's surprise victory in November - also slipped back, with the S&P 500 financial index down 2.3%.
Rick Meckler, president of Liberty View Capital Management, told Reuters:   "You're getting some giveback to the areas that have really done well with the Trump election. Some of that is a feeling he's starting to take on a lot of targets."  
18:05
US shares languish
US stocks are still down in early afternoon trade, with banks and healthcare firms holding back the main indexes. 
The Dow Jones has lost 0.2% to 19,845.04, the S&P 500 is down 0.23% at 2,269.39, and the Nasdaq is off by 0.5%, at 5,545.13.
Biotechnology and pharmaceutical stocks came under pressure after Donald Trump told the Washington Post that he would target drug companies over pricing and that he was ready to unveil a plan to replace Obamacare.
Financial stocks are thought to be losing steam after a huge rally in November and December.
16.01.2017
14:50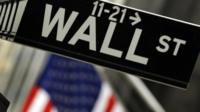 US stock markets are closed on Monday for Martin Luther King Jr day.
Back to top