Markets
S&P 500
As of 03:18 20 September 2017 - Market closed
index value

2506.65
index change:

2.78
index change percentage: up

0.11%
Open

2506.29
Previous close

2506.65
52 week high

2507.84
52 week low

2085.18
All market data carried by BBC News is provided by Digital Look. The data is for your general information and enjoy indicative status only. Neither the BBC nor Digital Look accept any responsibility for their accuracy or for any use to which they may be put. All share prices and market indexes delayed at least 15 minutes, NYSE 20 minutes.
Previous close
Latest updates
Wall Street Market Reports
Yesterday 19.09.2017
21:37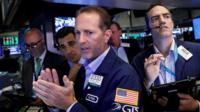 Financial and telecommunication companies helped lead indexes higher.
18:42
Wall Street holds onto gains
US stocks are holding onto their gains, helped largely by risers in telecom shares. Trading remains lacklustre, however, as investors await the Federal Reserve's policy meeting.
The US central bank, which begins its two-day meeting on Tuesday, is widely expected to announce on Wednesday that it will begin paring back its stimulus programme.
While an interest rate increase is not expected, investors will closely watch Fed Chair Janet Yellen's views on inflation, which remains stuck below the Fed's 2% target rate. "People are in wait-and-see mode," said Brad McMillan, chief investment officer for Commonwealth Financial.
The Dow Jones, which notched up its 41st record high this year, was up 0.16% at 22,368 points. The Nasdaq was very slightly ahead at 6,460.6, and the S&P 500 was also fractionally up at 2,506 points.
15:52
Mobile merger?
Shares in US telecoms groups T-Mobile and Sprint are rising on fresh reports of merger talks. T-Mobile, up 4%, and Sprint, up 5%, are the third and fourth biggest mobile firms in the US.
They have been the subject of merger talk before amid analysts' expectations of further consolidation in the telecoms sector.
Earlier this year, Japan's Softbank said it was interested in a deal with T-Mobile, which is 64%-owned by Germany's Deutsche Telekom.
14:40
Onwards and upwards
US stocks opened slightly higher on Tuesday, with the Dow Jones hitting another record, ahead of the two-day Federal Reserve meeting that is expected to roll out a plan to pare the central bank's bond holdings.
The Dow rose 31.18 points, or 0.14%, to 22,362.53. The S&P 500 gained 3.04 points, or 0.12%, to 2,506.91. The Nasdaq added 10.62 points, or 0.16%, to 6,465.26.
18.09.2017
21:36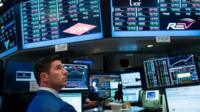 Financial companies led the gains on Monday.
15.09.2017
21:52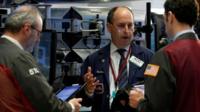 Investors shrugged off weak economic data, a missile test and a terrorist attack.
14.09.2017
22:23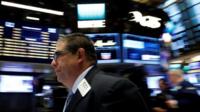 Wall Street is mixed as consumer, technology and financial stocks weigh on markets.
13.09.2017
21:38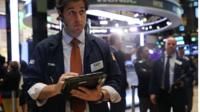 Markets close at record highs after energy and consumer stocks climb.
21:14
Wall Street at new highs - again
For the second day in a row, all three major indices on Wall Street were at new peaks, with the Dow Jones Industrial Average gaining 0.2% to 22,156.3, the S&P 500 up 0.1% to 2,498.1 and the Nasdaq Composite 0.1% higher at 6,460.1 points.
12.09.2017
21:54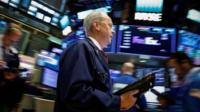 The main US stock indexes finish at record highs, but Apple dips after it unveils iPhone X.
Back to top