Markets
S&P 500
As of 09:10 24 April 2017 - Market closed
index value

2348.69
index change:

0.000
index change percentage:

0.000%
Open

2354.74
Previous close

2348.69
52 week high

2395.96
52 week low

2000.54
All market data carried by BBC News is provided by Digital Look. The data is for your general information and enjoy indicative status only. Neither the BBC nor Digital Look accept any responsibility for their accuracy or for any use to which they may be put. All share prices and market indexes delayed at least 15 minutes, NYSE 20 minutes.
Previous close
Latest updates
Wall Street Market Reports
21.04.2017
21:28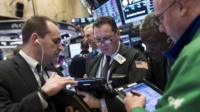 Wall Street's main markets fall on mixed earnings and cautious sentiment ahead of the French elections.
00:46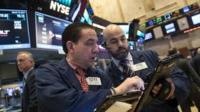 Wall Street bounces back on Thursday, with the Nasdaq Composite hitting a new record high.
19.04.2017
23:40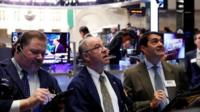 Poor results at IBM turn the firm into the biggest loser on the Dow Jones index on Wednesday.
21:17
Breaking
Dow and S&P fall
The S&P 500 and Dow closed lower while the Nasdaq rose as investors digested the latest round of results. 
The Dow Jones Industrial Average fell 0.6% to 20,403 points - its lowest level since February - while the S&P 500 lost 0.2% to 2,338 points.
The Nasdaq gained 0.2% to 5,863 points. 
18.04.2017
22:49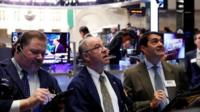 Some weaker-than-expected company results pull US share markets lower on Tuesday.
21:25
Wall Street falls
US markets have closed lower after Goldman Sachs led the Dow fallers, shedding 4.7%, while Johnson & Johnson fell 3.1% in the wake of their disappointing quarterly results.
The Dow Jones Industrial Average fell 0.5% to 20,523 points, while the S&P 500 dropped 0.3% to 2,342 points.
Tim Ghriskey, chief investment officer of Solaris Asset Management, said: "There is some nervousness out there about the economy, geopolitical issues and general unpredictability as well."
00:29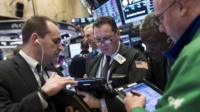 Wall Street ends in positive territory with investors upbeat after the three-day weekend.
13.04.2017
22:57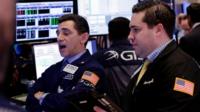 Wall Street closes lower as investors mull geopolitical tensions and assess a wave of bank results.
21:23
US markets end lower
Wall Street fell for a third straight day as bank stocks dragged and investors continued to mull geopolitical tensions.
The Dow Jones index lost 0.67%, the S&P 500 shed 0.68%, and the Nasdaq fell 0.53%.
Wells Fargo shares fell 3.3% after the bank reported a drop in mortgage banking revenue.
And despite a healthy earnings reports, Citigroup saw its shares slip 0.8% and JPMorgan lost 1.17%.
00:11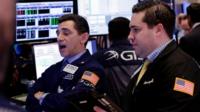 US shares close lower as investors' concern continues over problems posed by Syria and North Korea.
Back to top