Markets
S&P 500
As of 03:09 27 July 2016 - Market closed
index value

2169.18
index change:

0.70
index change percentage: up

0.03%
Open

2168.97
Previous close

2169.18
52 week high

2175.03
52 week low

1829.08
All market data carried by BBC News is provided by Digital Look. The data is for your general information and enjoy indicative status only. Neither the BBC nor Digital Look accept any responsibility for their accuracy or for any use to which they may be put. All share prices and market indexes delayed at least 15 minutes, NYSE 20 minutes.
Previous close
Latest updates
Wall Street Market Reports
Yesterday 26.07.2016
22:46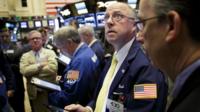 Wall Street markets were mixed after a series of disappointing earnings reports.
18:58
US market update
The Dow Jones is still trading lower, down 0.3% to 18,429. McDonald's is the biggest loser. Its shares falling, as mentioned earlier, after disappointing results. Menu price increases appear to have led more consumers to eat at home.
The best performing stock on the Dow Jones is Caterpillar. The construction company's shares are up about 4% after its earnings beat expectations.
25.07.2016
22:07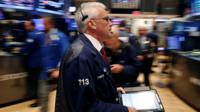 Wall Street markets sank on Monday, as oil prices dropped 2% to three-month lows and investors remained wary ahead of a raft of company earning reports.
22.07.2016
21:58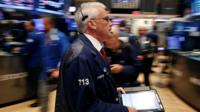 The S&P 500 inched to a new record high as Wall Street shrugged off poor earnings results to finish higher.
21.07.2016
22:10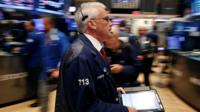 Shares in the chipmaker Intel weighed on the Dow Jones after results reported after the close of trade on Wednesday.
20.07.2016
21:55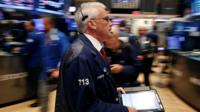 Wall Street markets closed higher on Wednesday lifted by strong results from Microsoft and Morgan Stanley.
19.07.2016
23:06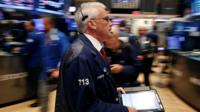 Wall Street markets were mixed on Tuesday as the Dow reached a new high but disappointing results earnings weighed on the Nasdaq.
18.07.2016
21:44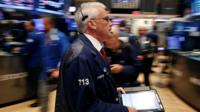 US markets reached fresh intra-day records, lifted by technology and banking shares.
21:33
Breaking
Wall Street ends higher
Wall Street closed higher on Monday, with the Dow Jones Industrial Average and S&P 500 hovering near record highs amid upbeat corporate results. 
The Dow rose 0.1%, the S&P 500 was 0.3% higher and the Nasdaq added 0.6%. 
15.07.2016
21:45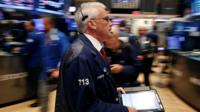 Wall Street markets were mostly unchanged as strong economic data was offset by global worries after the terror attack in Nice.
Back to top