Markets
S&P 500
As of 22:26 08 December 2016 - Market closed
index value

2246.19
index change:

4.84
index change percentage: up

0.22%
Open

2241.13
Previous close

2246.19
52 week high

2251.69
52 week low

1829.08
All market data carried by BBC News is provided by Digital Look. The data is for your general information and enjoy indicative status only. Neither the BBC nor Digital Look accept any responsibility for their accuracy or for any use to which they may be put. All share prices and market indexes delayed at least 15 minutes, NYSE 20 minutes.
Previous close
Latest updates
Wall Street Market Reports
Yesterday 08.12.2016
21:12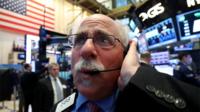 US markets hit fresh record highs again on Thursday.
07.12.2016
22:45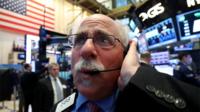 The onward march of Wall Street's share markets continues, with the Dow Jones and S&P 500 hitting fresh highs.
06.12.2016
22:26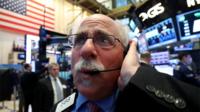 The Dow Jones Industrial Average hits a fresh record high as financial stocks continue to rally.
05.12.2016
21:39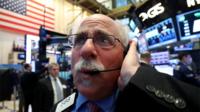 Rising bank shares and strong economic data help to push the Dow Jones to a new record.
02.12.2016
21:23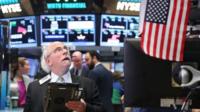 US stocks have closed little changed after a strong jobs report increased expectations of an interest rate rise later this month.
01.12.2016
21:14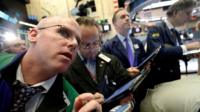 The Dow Jones has closed at a fresh record high, helped by a rally in energy stocks.
29.11.2016
23:33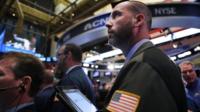 US markets close little changed, but energy stocks fall as the oil price slides ahead of Wednesday's Opec meeting.
28.11.2016
23:45
US stock markets close lower, slipping back from Friday's record highs.
25.11.2016
22:40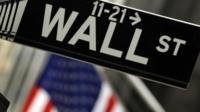 US stock markets reach record highs on Black Friday after re-opening following Thursday's Thanksgiving holiday.
14:40
Wall Street steams ahead
The S&P 500 and the Dow have opened at new record intraday highs, helped by gains in healthcare and consumer stocks at the start of the holiday shopping season. 
The Dow Jones rose 0.25% to 19,130, the S&P 500 was 0.14% higher at 2,207 points, while the Nasdaq edged up 4 points at 5,384 points.
Back to top