Markets
S&P 500
As of 23:34 30 May 2016 - Market closed
index value

2099.06
index change:

8.96
index change percentage: up

0.43%
Open

2090.06
Previous close

2099.06
52 week high

2128.28
52 week low

1829.08
All market data carried by BBC News is provided by Digital Look. The data is for your general information and enjoy indicative status only. Neither the BBC nor Digital Look accept any responsibility for their accuracy or for any use to which they may be put. All share prices and market indexes delayed at least 15 minutes, NYSE 20 minutes.
Previous close
Latest updates
Wall Street Market Reports
27.05.2016
21:53
US markets ended higher on Friday after the government revised its figures for economic growth higher and consumer sentiment rose.
21:16
New York ends higher
Wall Street rose on Friday after Federal Reserve chair Janet Yellen made comments implying that US interest rates could rise later this year. 
The Dow Jones Industrial Average added 0.2% to 17,870.6 points, while the S&P 500 rose 0.4% to 2,098.8 points and the Nasdaq Composite jumped 0.7% to 4,933.5 points.
The gains show that investors view a rate rise as confirmation that US growth is on track.
But Jack Ablin, chief investment officer at BMO Private Bank, said: "The market is giving permission to the Fed to raise rates. We'll see what actually happens when they do." 
15:12
Wall Street follows London in treading water
Wall Street opened little changed on Friday ahead of a speech by Federal Reserve Chair Janet Yellen.
Investors were hoping she would give some clues as to the timing of a US interest rate hike. 
Ms Yellen is due to speak later at an event at Harvard University. 
This week investors seem to have grown more comfortable with expectations that the central bank could raise rates as soon as June, with many taking the view that such a hike would reflect improvement in the country's economy. 
After a couple of days of rising markets, Thursday was pretty much static and so far Friday is going the same way.   
A short while ago the Dow Jones was at 17,849.42 - a rise of just 0.12%.
The Nasdaq had edged up 0.27% at 4,914.90. 
And the S&P 500 was up 0.17% at 2,093.75.
26.05.2016
21:45
US markets had a mixed day ahead of the release of revised figures on US economic growth and a speech by Federal Reserve chair Janet Yellen.
21:29
All quiet on Wall Street
There was little movement on Wall Street on Thursday following two days of strong gains.
The Dow Jones was down a fraction (-0.13%) at 17,828.29.
The S&P 500 also edged down by 0.02%, closing at 2,090.10.
However, the Nasdaq was up marginally. It gained 0.14%, finishing at 4,901.77.
Share gains earlier this week were encouraged by investors beginning to accept that there will be a rise in interest rates in the US - maybe as soon as next month. It seems they're starting to accept that any increase would be a sign that the US economy is picking up. 
But today, "eople are taking their foot off the gas after making a bunch of money, and now they're waiting for the next data point", says Phil Blancato, chief executive of Ladenburg Thalmann Asset Management in New York. 
15:53
All quiet on Wall Street ...
Little change on Wall Street so far today - though the higher oil price combined with some positive economic data has helped to buoy up shares. 
Orders for US durable goods, including everything from toasters to aircraft, rose strong in April and the number of Americans filing for unemployment benefits fell more than expected last week, as the economy picks up.   
A short while ago the Dow Jones was a shade down at 17,826.07 - a fall of 0.14%.
And the S&P 500 was also marginally down at 2,088.87 - a fall of -0.08%.
The Nasdaq was slightly higher at 4,897.74  - a rise of 0.06%.  
25.05.2016
21:58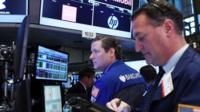 US stocks rose for a second day as investors began to take a more positive attitude to a potential Federal Reserve interest rate rise in June.
21:14
Wall Street up for second day running
At the close shares in New York had maintained the gains we reported at the beginning of the trading day in New York. 
One key reason seems to be a growing acceptance that US interest rates could go up as early as next month..
"What you're seeing is a recognition that this is going to happen and investors are getting more comfortable with it," said Kurt Brunner, a portfolio manager at Swarthmore Group in Philadelphia. "There's a recognition that economic growth is okay." 
The Dow Jones closed at 17,851.51 - that's a rise of 0.82%.
The Nasdaq was up 0.70% at 4,894.89.
And the S&P 500 also rose 0.70% to finish at 2,090.54.
Higher oil prices have also helped to boost the market - with oil approaching $50 a barrel on reports of a larger-than-expected drop in US crude inventories.
15:01
Wall Street rises as markets accept rate rise 'not the end of the world'
Wall Street has opened higher today, building on gains it made on Tuesday. 
Oil prices are up and investors are getting used to the idea that US interest rates could rise as soon as June. 
"We've had some good economic data and investors are coming around to the fact that higher rates in a small measured dose isn't the end of the world, but is a measure of confidence in the economy," said Andre Bakhos, managing director at Janlyn Capital LLC in Bernardsville, New Jersey. 
Oil approached $50 a barrel on Wednesday for the first time in seven months on expectations of shrinking supply due to well fires in Canada and other disruptions.   
The Dow Jones is up 0.5% at 17,799.15 .
The Nasdaq is up 0.48% at 4,884.61.
And the S&P 500 has risen 0.64% to 2,089.31.
24.05.2016
21:53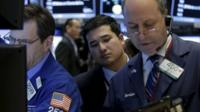 US markets ended higher on Tuesday, led by gains in the technology and banking as investors gained confidence about the US economy.
Back to top