Markets
S&P 500
As of 22:45 29 August 2016 - Market closed
index value

2180.38
index change:

11.34
index change percentage: up

0.52%
Open

2170.19
Previous close

2180.38
52 week high

2190.15
52 week low

1829.08
All market data carried by BBC News is provided by Digital Look. The data is for your general information and enjoy indicative status only. Neither the BBC nor Digital Look accept any responsibility for their accuracy or for any use to which they may be put. All share prices and market indexes delayed at least 15 minutes, NYSE 20 minutes.
Previous close
Latest updates
Wall Street Market Reports
26.08.2016
21:51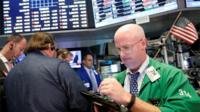 Wall Street share markets were mixed on Friday after a speech by Federal Reserve head Janet Yellen indicated that an increase in interest rates may be coming soon.
21:43
Wall Street dips
US stocks finished the day marginally lower as investors puzzled over Janet Yellen's delphic interest rate comments.
The chairwoman of the US Federal Reserve said the case had "strengthened" for a rate rise, but was silent on when that might be.
The Dow Jones dipped 0.3% to 18,395, and the S&P 500 ended 0.2% lower at 2,169. But the Nasdaq finished 0.1% higher at 5,219. 
19:17
Wall Street update
Janet Yellen's cautiously upbeat comments about the US economy is not making much impact on Wall Street.
Stocks were mostly lower in afternoon trading, giving up modest gains at the start of trading.
Phone companies and utilities, widely considered safe-play stocks, led the list of decliners, while healthcare stocks rose. 
The Dow Jones was down 0.3%, and the S&P 500 slipped 0.2%. The Nasdaq dipped 0.1%.
25.08.2016
21:54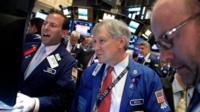 US stocks close fractionally down on Thursday, despite good news on the jobs front.
21:31
US stocks in muted finish
US shares finished slightly down on the day after having briefly pushed into positive territory. The main stock indexes were weighed down by healthcare shares as accusations of price-gouging by pharmaceutical firms continued to feature in the presidential election.
Traders were also holding back ahead of Federal Reserve chair Janet Yellen's speech tomorrow, when they'll be looking for clues on a September rate rise.
The Dow Jones fell 0.2% to 18,448, the S&P 500 dipped 0.1% to 2,172 and the Nasdaq also slid 0.1% to 5,212. 
14:59
Breaking
US stocks edge down
US stocks drifted down in the opening few minutes as traders remained cautious ahead of US Federal Reserve chair Janet Yellen's speech at a central banking summit tomorrow. 
The Dow Jones was down 0.1% at 18,462. The broad-based S&P 500 slipped 0.1% to 2,173, while the tech-heavy Nasdaq gave up 0.1% at 5,210. 
24.08.2016
22:04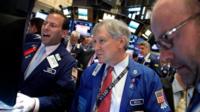 US stocks fell, led by declines in healthcare stocks with pharmaceutical firm Mylan sliding on concerns about a government probe.
23.08.2016
14:47
Breaking
New York opens higher
Wall Street opened higher for the first time in three days as investors await Federal Reserve Chair Janet Yellen's speech this week for clues on the next interest rate hike. 
The Dow Jones Industrial Average was up 0.4% at 18,598 points. The S&P 500 was up 0.3% at 2,189.8, while the Nasdaq Composite was up 0.4% at 5,265 points. 
22.08.2016
21:58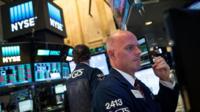 US stock markets were mixed as increases in the value of biotech stocks offset a fall in energy shares caused by a sharp drop in the oil price.
14:57
Pfizer shares flatline
Investors are unmoved following Pfizer's $14bn deal to buy Medivation - Pfizer shares are becalmed at $34.94 in New York as trading gets underway on Wall Street for another week. 
Medivation, however, is almost 20% higher, as you might expect of a bid target. The jump now values the company at $13.3bn,
The Dow Jones has followed the FTSE 100 lower, shedding 0.4% to 18,478 points, the S&P 500 lost 0.3% to 2,176 points, while the Nasdaq also slipped 0.3% to 5,224 points. 
Mining and materials shares were hit as the prices of copper and other metals declined.  
Back to top