Markets
S&P 500
As of 03:40 26 June 2016 - Market closed
index value

2037.41
index change:

-75.91
index change percentage: down

-3.59%
Open

2103.81
Previous close

2037.41
52 week high

2128.28
52 week low

1829.08
All market data carried by BBC News is provided by Digital Look. The data is for your general information and enjoy indicative status only. Neither the BBC nor Digital Look accept any responsibility for their accuracy or for any use to which they may be put. All share prices and market indexes delayed at least 15 minutes, NYSE 20 minutes.
Previous close
Latest updates
Wall Street Market Reports
24.06.2016
22:25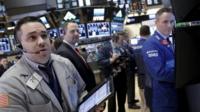 Wall Street followed global markets sharply lower on Friday after the UK's decision to leave the European Union
21:05
Breaking
Wall Street sinks
Wall Street wobbled further in the last hour of trading in New York, with the Dow Jones ending more than 600 points, or 3.4%, lower at 17,400 points - the biggest one-day fall in almost five years.
The S&P 500 fell 3.6% - the biggest daily slide in 10 months - while the Nasdaq slumped 4.1%. That was the tech-focused index's worst day since 2011.
14:48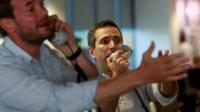 The London stock market dives and the pound hits its lowest level since 1985 in the wake of the UK's vote to leave the EU.
14:32
Breaking
Wall Street falls
Shares in New York have fallen as the opening bell on Wall Street rings, with the Dow Jones industrial average dropping 2.3% and the S&P 500 off 2%, while the Nasdaq is 3.8% lower.
23.06.2016
22:31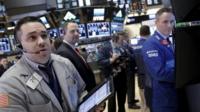 US markets rose on Thursday led by technology shares after the strong debut of software firm Twilio.
14:42
Breaking
Wall Street opens higher
US stocks have started the day higher for the fourth time this week, with the Dow Jones industrial average and the 0.6% both 0.6% higher, and the Nasdaq up 0.8%.
By the way, Macy's is 3.2% higher - it's always a bit of a slap in the face when the departure of a chief exec sparks a share price rally... 
22.06.2016
21:51
Shares on Wall Street ended lower on Wednesday with investors showing caution before Thursday's vote in the UK on whether to remain in the European Union.
21:09
'A whole lot of nothing'
Wall Street fell slightly on Wednesday, with the Dow shedding about 0.2%, while both the S&P 500 and the Nasdaq were down less than 0.1%. 
"Today is a whole lot of nothing," said Art Hogan at Wunderlich Securities in New York. "We are clawing back some of the losses from last week and are in a bit of a holding pattern ahead of tomorrow's vote."
It wasn't a great day for Tesla Motors, which closed 10.4% lower in the wake of Elon Musk's proposal to buy his other company, the solar installation firm SolarCity for $2.8bn. Its shares added 4.1%.
18:05
Wall Street erases gains
New York has erased most of its earlier gains at lunchtime, with the Dow now in negative territory and the S&P 500 just 0.1% higher. It's a similar story for the Nasdaq as well.
"Equity indices are mixed ... having lost some of yesterday's bullish momentum," said Mike van Dulken, head of research at Accendo Markets, said, adding that a "pause" was to be expected. 
14:36
Breaking
Wall Street opens higher
New York has followed London and continental markets higher at the open, though the gains are fairly muted. The S&P 500 is up almost 0.2% and the Dow is 0.15% higher. 
Back to top