Markets
S&P 500
As of 10:00 22 June 2017 - Market open
index value

2435.15
index change:

-0.46
index change percentage: down

-0.02%
Open

2437.40
Previous close

2435.61
52 week high

2453.46
52 week low

2000.54
All market data carried by BBC News is provided by Digital Look. The data is for your general information and enjoy indicative status only. Neither the BBC nor Digital Look accept any responsibility for their accuracy or for any use to which they may be put. All share prices and market indexes delayed at least 15 minutes, NYSE 20 minutes.
Previous close
Latest updates
Wall Street Market Reports
Yesterday 21.06.2017
21:37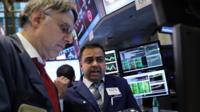 Gains come as a Republican proposal to overhaul health care system appears ready to advance.
20.06.2017
21:53
Department stores and technology firms were among the firms posting losses as US markets turned sour.
19.06.2017
21:42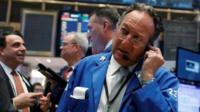 The increases in the technology sector come as the White House hosts a meeting with industry leaders.
16.06.2017
21:28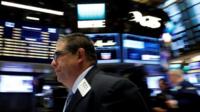 News of the tie-up sent supermarket shares tumbling but the markets closed with little change.
21:16
Retailers roiled
Wall Street ended little changed on Friday although Amazon.com's $13.7bn deal to buy upscale grocer Whole Foods rocked shares of a string of companies, including Wal-Mart and Target.
At the closing bell, the Dow Jones was up 0.11% to 21,384.28 points, the S&P 500 gained 0.03% to 2,433.15, and the Nasdaq ended 0.22% better at 6,151.76.
Energy sector shares helped buoy the S&P and Dow, while a 1.4% drop in Apple weighed on the Nasdaq.
But the big movers were in retail. Wal-Mart fell 4.65% and Target fell 5%. Kroger, the biggest US supermaket by store numbers, closed down 9.2%.
15:28
Wall Street edges lower
We mentioned earlier that US supermarket shares have been hit heavily by the Amazon-Whole Foods deal. But what of the rest of the market?
The Nasdaq and Dow Jones are 0.15% down, while the S&P 500 is 0.2% lower.
Four of the 11 major S&P 500 sectors were lower. Technology was a big drag, led by declines in International Business Machines and Apple.
14:27
Amazon deal catches markets by surprise
The move by powerhouse Amazon into supermarkets has stunned the markets.
Ahead of the start of formal trading on Wall Street, Walmart shares are being marked down 4% and Kroger - the biggest retailer by store numbers - has dived 12%.
Solaris Asset Management investment chief Tim Ghriskey owned up to being wrong-footed.
"That [deal] was rumored, I totally dismissed it. Wow. Amazon can pour money into any investment and they don't need to make money."
15.06.2017
21:22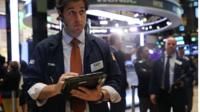 US shares are down in morning trading, led by tech stocks, reflecting concerns they are over-valued.
15:08
Wall Street opens down
US stocks have opened lower, with technology shares leading a broad decline. The S&P 500 technology sector dropped 1.2%, led by declines in index heavyweights such as Apple, Microsoft and Facebook. All 11 major S&P 500 sectors were lower.
About 30 minutes into trading the Dow Jones was down 0.28% at 21,315.6 points, the S&P 500 was down 0.61% at 2,423, and the Nasdaq was 1% lower at 6,130.8.
14.06.2017
21:22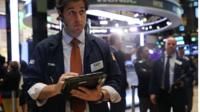 Retailers are among the big losers on Wall Street after a US report shows a fall in May spending.
Back to top