Ukraine crisis: Is this Cold War Two?
We overdo the talk of turning points and milestones in covering summits, but, when it comes to the G7 at The Hague, it's very hard to see it in any other terms.
Events in Ukraine have profoundly changed Western perceptions towards Russia and it's very hard to envisage any rapid return to business as usual.
Arriving in the Netherlands for this summit, President Barack Obama said the US and Europe were united in imposing sanctions that would bring "significant consequences to the Russian economy".
Michael McFaul, the former US ambassador in Moscow, wrote on Monday morning that President Putin "embraces confrontation with the West… [and] has made a strategic pivot".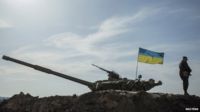 Carl Bildt, Sweden's foreign minister, added on Twitter that Mr McFaul's gloomy prognosis was understating the problem since the Russian president was "building on deeply conservative orthodox ideas".