Education & Family
Top Stories
Lack of oversight 'damaging schools'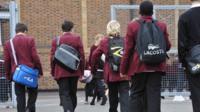 MPs say problems in some more autonomous schools have been picked up too late because of lack of oversight by the government.
School tables branded a 'nonsense'
Government school league tables are branded a "nonsense", after numerous changes to the way grades are recognised left more schools failing.
Features & Analysis
Bottom up
How one head turned a school's performance around
Last witnesses
Holocaust survivors hand on their stories to school pupils
Humour attack
Can this man stop young people becoming radicals?
28 January 2015

From the section

Magazine
Coding gap
The man teaching 26 million students to code
24 January 2015

From the section

Business
Our Experts
Sean Coughlan
Education correspondent