England
Top Stories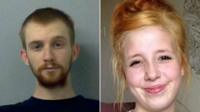 The ex-boyfriend of pregnant teenager Jayden Parkinson, whose body was found in an Oxfordshire graveyard, is convicted of murder.
A car careers off the road and flies through the air, smashing into the first floor of a house in Lincolnshire.
A boy with a form of dwarfism says he has been barred from buses five times in a fortnight in a row over the bike he uses.
Maggots from a dead pigeon fall on to audience members at a comedy club in Nottingham.
An Elvis Presley impersonator is jailed for a year for downloading and distributing more than 900 indecent images of children.
About 250 people turn out in support of a man who claims he is wrongly threatened with eviction from his home.
Two men are jailed for life for murdering a pizza delivery worker who was on his last shift before starting a new job.
A psychiatric nurse accepts libel damages over a headline in The Times newspaper which said he was wanted for genocide.
The Met Police collected information on 18 justice campaigns - including that of Jean Charles de Menezes - a report into a now defunct undercover unit says.
A husband from Dorset wins High Court damages of more than £600,000 for the "loss of services" of his "extremely house-proud" wife.
A cat reported missing a week ago is rescued from a chimney after it was heard crying.
A mysterious "crying" statue complete with Dear John letter appears outside a Baptist church in Bristol.