England
Top Stories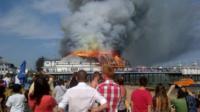 A huge blaze is ripping through Eastbourne Pier, leaving the structure an "absolute red, molten, mess of flame and smoke".
A former policeman is to be charged with murdering a man who was shot dead after a car was stopped by officers in north London nine years ago.
Former Manchester United manager David Moyes is no longer being investigated over an alleged scuffle in a bar in Lancashire, police say.
A lorry driver is jailed for life for using his 17-tonne truck to murder another motorist by deliberately driving over him.
A man who shot a police officer on his doorstep and laughed while cycling off is convicted of attempted murder.
A dog walker and a runner help a woman fight off a man who was trying to rape her.
British Airways is to be sued for damages over claims one of its pilots sexually abused children in African schools and orphanages.
The match commander at Hillsborough was a "fish out of water" who did not provide "true leadership", inquests into the disaster hear.
A woman who added "Skywalker" as a middle name is told by passport officials that her signature infringes a trademark.
A man appears in court charged with the murder of a hotel landlady in Bridlington, East Yorkshire.
A man starts his attempt to push a Brussels sprout up Snowdon with his nose.
Three new pilots will join the RAF's Red Arrows acrobatic display team for its 51st season in 2015.