Entertainment & Arts
Top Stories
Tony Hall queries watershed and Archers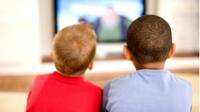 The 9pm TV watershed may not survive, says BBC director general Tony Hall, who also acknowledges criticisms of Radio 4's flagship drama The Archers.
Stone Roses star 'shown gay porn'
The Stone Roses singer Ian Brown tells a court his former teacher Fred Talbot showed pupils what he later realised was "probably a gay porn film".
Features & Analysis
Watermark art
Aboriginal painting from Australian passport comes to London
One from five
Interviews with authors up for Costa Book of the Year
Bot of course
Two men, one robot and a lot of questions in new film Ex Machina
Our Experts
Clint Eastwood goes to Iraq
What drew the veteran film-maker to tell the story of one of the most prolific marksmen in US military history?
14 January 2015
Will Gompertz
Arts editor
Entertainment around the BBC Now