Entertainment & Arts
Top Stories
Coronation Street role recast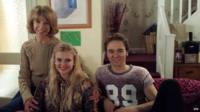 Actress Lucy Fallon is to take over the role of Bethany Platt, after another actress was dropped from the same role over an age discrepancy.
Entertainment round-up: 29 January
Taylor Swift's 'sick beat' trademark, subtitling snafus and what the stars will eat on Bafta night, plus the best of today's entertainment and arts news.
Features & Analysis
Rae of light
Meet Rae Morris, the pop star who wanted to be a waitress
Trash talking
Why Stephen Daldry swapped ballet pumps for Brazilian favelas in his latest film
Our Experts
Clint Eastwood goes to Iraq
What drew the veteran film-maker to tell the story of one of the most prolific marksmen in US military history?
14 January 2015
Will Gompertz
Arts editor
Entertainment around the BBC Now