Entertainment & Arts
Top Stories
Star Trek legend Nimoy dies at 83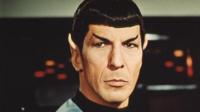 Leonard Nimoy, who played Mr Spock in the cult sci-fi TV series Star Trek, has died at the age of 83 in Los Angeles, his family says.
Turkish author Yasar Kemal dies
One of Turkey's best-known writers, Yasar Kemal, 92, dies in an Istanbul hospital following respiratory and organ failure.
28 February 2015

From the section

Europe
Entertainment round-up: 27 February
Kanye West apologises, Uptown Funk grannies, TFI's return and Eddie Redmayne as a girl, plus the best of Friday's arts and entertainment news.
Features & Analysis
Best Brits
The real winners and losers at the Brit Awards
Beautiful booty
The bronzes looted from Nigeria - and in one case returned
26 February 2015

From the section

Magazine
Our Experts
Will Gompertz
Arts editor