Health
Top Stories
Care workers 'being short changed'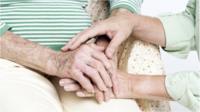 Just one in seven councils in the UK is paying a "fair" price for home care for the elderly, according to a survey.
4 March 2015

From the section

Health
Adults get flu 'every five years'
Adults catch real flu about once every five years, while children get it every other year, scientists calculate, based on a field study in China.
4 March 2015

From the section

Health
Clegg in drug law election pledge
The Lib Dem election manifesto will include a pledge to hand drugs policy from the Home Office to the Department of Health, Nick Clegg is to say.
Features & Analysis
Baby deaths
Bereaved parents' persistence led to hospital failings being exposed
3 March 2015

From the section

Cumbria
Perfect body
Just how reliable are 'before and after' photos?
Brain gain
Why are people getting better at intelligence tests?
'Wobbly brain'
Why everyone should be aware of Sam's symptoms
28 February 2015

From the section

Health
Our Experts
Nick Triggle
Health correspondent
Defeating cancer, the 'evil genius'
Can we win the war against cancer? Over the past 18 months, Panorama has followed a group of patients on drug trials. Some who'd been given months to live, are keeping cancer at bay for years.
11 February 2015
Fergus Walsh
Medical correspondent
'Devo Manc' and the NHS
Greater Manchester is to take control of its health budget from April this year. While details are still to emerge, it's a significant move.
27 February 2015
Hugh Pym
Health editor