BBC News Home
Top Stories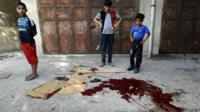 Gaza and southern Israel see an upsurge in violence despite a plea by the UN secretary general for a cessation of hostilities.
Security officials in Ukraine say the Malaysia Airlines jet downed in eastern Ukraine suffered an explosive loss of pressure caused by missile shrapnel.
Live video, radio and text coverage of 12 sports on day five at the 2014 Commonwealth Games in Glasgow.
Conservative MP David Ruffley, who had been criticised after receiving a police caution for common assault, is to retire from Parliament at the next election.
Lightning strikes, hail, torrential rain and flash flooding cause homes to be evacuated and bring road and rail transport to a standstill.
EU talks on tougher sanctions against Russia over Ukraine are "moving in the right direction", No 10 says.
Government guidance that fracking licences can only be issued for beauty spots in "exceptional circumstances" receives a mixed response from campaigners.
A man admits stealing £300,000 intended for the armed forces charity Help for Heroes.
Lloyds Banking Group is fined £218m for "serious misconduct" relating to key interest rates including Libor.
Top Gear's Burma special in which Jeremy Clarkson used a racial term broke broadcasting guidelines, Ofcom rules.
Poultry processing plants in Llangefni and Scunthorpe alleged to have committed hygiene breaches are rated "good" and "generally satisfactory".
Commonwealth Games