Northern Ireland
Top Stories
Strike 'could delay 999 responses'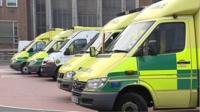 A 24-hour strike by some ambulance staff may lead to delays in responding to 999 calls, the Northern Ireland Ambulance Service warns.
Features & Analysis
Is it ever OK to pay for sex?
Next month it will become illegal to pay for sex in Northern Ireland, a law some think should be implemented across the UK. Here are two viewpoints from different sides of the debate.
Who was 'Jock' Davison?
Murdered man reportedly involved in fight that led to high profile Robert McCartney killing
Dream video
Irish waterfall footage viewed over six million times by insomnia sufferers
4 May 2015

From the section

Europe
Our Experts
Mark Devenport
Political editor, Northern Ireland
Northern Ireland Business