Northern Ireland
Top Stories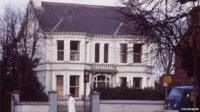 A former army intelligence officer says he was ordered to stop investigating allegations of child sexual abuse at a Belfast boys' home in the 1970s.
The Housing Executive says a plaque to UDA members in south Belfast was not part of a memorial garden it funded in the Annadale Flats area.
Michaela Walsh and Michael Conlan are guaranteed at least Commonwealth Games silvers after winning their semi-finals.
Tax workers in Northern Ireland are staging a one-day strike on Friday in an ongoing dispute over job cuts.
Bank of Ireland announces it made a pre-tax profit of 327m euros (£259m) over the past six months and its Northern Ireland business is now profitable again.
Stormont departments, excluding health and education, are to have their budgets cut by £78m as the executive agrees to endorse the June monitoring round.
A woman living in Belfast who abandoned her three children at home overnight with no food is given a suspended six-month jail sentence.
The Northern Ireland Executive approves almost £1m in funds for the threatened Exploris aquarium in Portaferry, County Down.
An investigation is launched into a "serious data breach" after medical files were found by children at a former health centre owned by SDLP leader Alasdair McDonnell.
Northern Ireland 800m runner Katie Kirk improves her personal best as she finishes sixth in her semi-final in Glasgow.
A Londonderry man pleads guilty to assaulting former SDLP councillor Jimmy Carr but denies making threat to kill.
A new invasive species, the bloody red shrimp, has been discovered for the first time in Northern Ireland in Upper Lough Erne.