Northern Ireland
Top Stories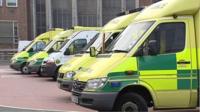 The Northern Ireland Ambulance Service (NIAS) is reviewing its operations after staff shortages led to delays in its 999 response times over the weekend.
Secretary of State Teresa Villiers condemns arsonists who attacked a Sinn Féin constituency office.
Northern Ireland win their second medal of Glasgow 2014 as their men's triples bowls team takes silver against South Africa.
Thousands of passport workers, including staff in Northern Ireland, are on strike over staffing and pay, with the government saying it could threaten people's holidays.
A team of scientists is visiting Northern Ireland later in a bid to draw up a genetic map of the British Isles.
Planners reject an application for a major redevelopment and expansion of Bow Street Mall shopping centre in Lisburn, County Antrim.
A book of condolence for the victims for three recent airline disasters is opened at Belfast City Hall.
Pop star Nicky Byrne makes a return to the Milk Cup some 20 years after playing in the youth football tournament.
The former deputy leader of the Ulster Unionist party describes the conflict in Gaza as "one of the worst tragedies playing out in the world today".
Two vehicles damaged in an arson attack at Merriman Court in Londonderry.
Four PSNI officers have been injured after a stolen car collided with two police vehicles in County Londonderry.