Scotland
Top Stories
Final day of campaigning in Scotland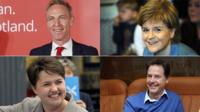 Politicians campaign across the country in the final push for Scottish votes before polling begins.
Related content
Live
Scotland Live
All the latest news, sport, weather and travel from across Scotland on Wednesday 6 May 2015.
Watch/Listen
Features & Analysis
Election night coverage
Full details of BBC Scotland's election night coverage across online, television and radio.
Lubricating the oil cycle
The price of Brent crude is rising again, slowly, so does that mean the crisis is over for the industry? The impact could still be felt in 25 years.
4 May 2015
Douglas Fraser
Business/economy editor, Scotland
Election 2015: Shouting the odds
Drove in this morning, listening to "Anarchy in the UK". Splendid stuff - although not my absolute favourite from the Pistols. That rests with "Pretty Vacant". What was that? Take that person's name.
6 May 2015
Brian Taylor
Political editor, Scotland
Watch/Listen
Elsewhere on the BBC