Scotland
Top Stories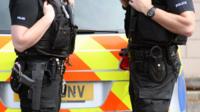 Armed police officers have stopped drink drivers and helped search for missing people, MSPs are told.
More top stories
Glasgow City Council follows Aberdeen in confirming it is to leave local government body Cosla to join a rival organisation.
Chief executive Derek Llambias challenges Dave King to reveal who Rangers' nominated advisor to the stock exchange will be.
A man who was airlifted to hospital on Sunday after being rescued from Ayr Harbour has died in hospital.
Six men appear in court charged with conspiracy to rob commercial premises in St Andrews, Fife.
Construction of Dundee's new £80m V&A museum of design, which is due to open in 2018, has got under way.
A former soldier's appeal against his conviction for murdering teenager Elaine Doyle in 1986 takes a step forward.
Scotland's councils will face financial pressures "of a scale not previously experienced" in the coming years, the public spending watchdog says.
Three men are to stand trial charged with carrying out a racist murder bid in Edinburgh.
A social worker tells a fatal accident inquiry he saw 'no indication' that a boy who stabbed his foster mother to death was violent.
A 25-year-old woman is to stand trial accused of assaulting a two-year-old girl at Pizza Hut restaurant in Falkirk.
The SNP could win the safest Labour seat in Scotland and oust Charles Kennedy at the general election, according to a new poll.
Police catch a man with a sub-machine gun in his car boot after they were called to a disturbance with his partner.
The European Union approves the rollout of rural fuel rebates to 17 areas, including parts of the Highlands and Argyll and Bute.
Energy burners take the high road
The latest Scottish economic forecast has balanced the winners and losers from lower oil prices, reaching a cautiously upbeat conclusion and a sense of deja vu.
5 March 2015
Douglas Fraser
Business/economy editor, Scotland
FMQs and the elephant in the room
At Scottish First Minister's Questions there was one subject politicians were thinking about, but not talking about. What could that elephant in the room have been?
5 March 2015
Brian Taylor
Political editor, Scotland