UK
Top Stories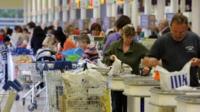 A group of local councils in England is formally asking the government for new powers to tax large supermarkets, a plan dubbed the "Tesco tax".
Rail passengers in parts of southern England and Wales face further travel problems after lightening strikes caused "major disruption" on Friday.
The largest flotilla ever seen on the River Clyde will sail from Greenock to Glasgow later as part of the city's Commonwealth Games celebrations.
A judge is being investigated after being accused of falling asleep during a child rape trial at Manchester Crown Court.
Police investigate the death of a butler who was fatally injured while working at a Tudor mansion in Lincolnshire.
A British man was among the 116 passengers who died when the Air Algerie AH5017 jet crashed in Mali, the UK Foreign Office says.
Ryde on the Isle of Wight celebrates the 200th anniversary of its seaside pier, the oldest in Britain.
Wales' stuttering Commonwealth Games campaign took yet another blow on Friday after athletics co-captain Rhys Williams failed a drugs test.
US retailer Destination Maternity withdraws a takeover offer for Mothercare, saying it was clear shareholders wanted a "significant increase" in the offer.
Marks and Spencer says it will not be selling red grouse this year after concerns about the way in which the game birds are killed.
Thousands of ticket-holders are left disappointed as "immersive" outdoor screenings of Back To The Future are cancelled by organiser Secret Cinema.