UK
Top Stories
Nationwide tours for party leaders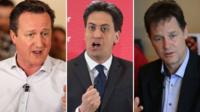 Party leaders embark on a series of whistle-stop tours around the UK as the general election campaign enters its final two days.
Ovarian cancer blood test 'boost'
A 14-year UK trial of regular blood tests shows such success in early detection of ovarian cancer that it could lead to a national screening programme.
5 May 2015

From the section

Health
Related content
The Papers
Baby name and election countdown
The name of the royal baby - Charlotte Elizabeth Diana - gives many of the papers their lead story, as election coverage continues with just two days to go.
Features & Analysis
Moving out
What are HSBC's options if relcoates HQ from Britain?
Our Expert
Saving baby Sebastian
Are politicians dodging problems which will take more than five years to fix - because they won't get credit?
30 April 2015
Mark Easton
Home editor