Europe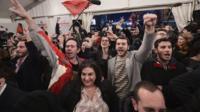 Official projections give a clear victory to the anti-austerity left-wing Syriza party in Greece's general election.
25 January 2015

From the section

Europe
Live updates on the general election in Greece where for the first time in the eurozone crisis an anti-austerity party seems likely to win power.
Ukrainian President Petro Poroshenko vows to "calm" fighting with pro-Russia rebels in east Ukraine, a day after 30 people were killed in Mariupol.
25 January 2015

From the section

Europe
25 January 2015

From the section

UK
24 January 2015

From the section

Europe
24 January 2015

From the section

Europe
23 January 2015

From the section

Europe
23 January 2015

From the section

Europe
23 January 2015

From the section

Business