Europe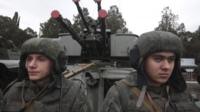 President Barack Obama orders a trade ban with Crimea, to show the US "will not accept Russia's occupation" of the Ukrainian region.
Turkey issues an arrest warrant for influential US-based cleric Fethullah Gulen, who is accused of organising an anti-government movement.
Belarus's central bank moves to protect its currency by imposing a new tax, as it feels the knock-on effects of the fall in the Russian rouble.
19 December 2014

From the section

Business
19 December 2014

From the section

UK

comments
18 December 2014

From the section

UK
18 December 2014

From the section

Business