BBC News Home
Top Stories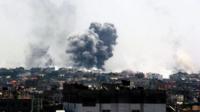 Israel carries out fresh strikes on Gaza and militants launch more rockets into Israel, as a hunt continues for a missing Israeli soldier.
An ex-defence minister condemns Israel's Gaza offensive after a ceasefire fails, as the foreign secretary says both sides must "act proportionately".
The Foreign Office says operations at the British embassy in Tripoli are to be temporarily suspended as violence worsens in Libya.
An online campaign for a baby with Down's Syndrome left with his surrogate Thai mother by an Australian couple raises more than £70,000.
Nato needs to rethink its long-term relationship with Russia following its "illegal" actions in Ukraine, Prime Minister David Cameron warns.
An investigation backs the British Medical Journal's handling of two controversial and inaccurate articles it published on the harms of cholesterol-reducing statins.
Councils are missing out on millions of pounds every year because foreign drivers are not paying parking fines, the Local Government Association says.
An explosion at a factory in eastern China has killed at least 65 people and left scores injured, according to Chinese state media.
The collapse of a ceasefire in Gaza makes front-page news for several papers, while others focus on West Africa's Ebola outbreak.
A massive landslide on a river near the Nepalese capital Kathmandu buries dozens of homes, with six people so far confirmed dead.
Two American tourists charged with "anti-state" crimes in North Korea have appealed for the US government to help secure their release.
The Uber taxi app is "competing unfairly" with London's black cabs, senior Labour MP Margaret Hodge says.
Commonwealth Games
Latest stories
Live video, radio and text coverage of nine sports on day 10 of the 2014 Commonwealth Games in Glasgow.