Celebrities campaign for kidnapped Nigerian schoolgirls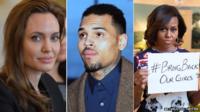 Malala Yousafzai, Michelle Obama and Amy Poehler are among those calling for more than 200 kidnapped schoolgirls in Nigeria to be returned safely.
The #BringBackOurGirls social media campaign is calling for for military intervention to help the recovery of those who been taken.
The girls were kidnapped more than three weeks ago by Islamist Boko Haram militants in north-east Borno state.
Other stars including Angelina Jolie, Jessie J, Kerry Washington and Chris Brown have also lent their support.
Malala Yousafzai
The Pakistani schoolgirl who survived a shooting by Taliban insurgents has said the world must not stay silent over the abduction.
She told the BBC that "if we remain silent then this will spread, this will happen more and more and more".
The 16-year-old survived after months of surgery and rehabilitation in the UK.
She's now a campaigner for girls' access to education worldwide.
Michelle Obama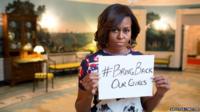 The wife of US president Barack Obama posted a message on Twitter which said: "Our prayers are with the missing Nigerian girls and their families. It's time to #BringBackOurGirls. -mo."
The "mo" sign-off indicates that the First Lady wrote the post herself. It has since been retweeted more than 37,000 times.
Angelina Jolie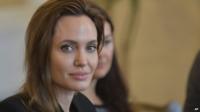 "You watch the news and you see all the people suffering and so much cruelty, and it's unthinkable cruelty, like those girls that where kidnapped in Nigeria. Unthinkable cruelty and evil," the actress said at a press conference in Paris.
She also told French news channel i-Tele: "Like everybody, I'm absolutely sickened by it and the thought of them out there right now, terrified and being abused and sold."
Amy Poehler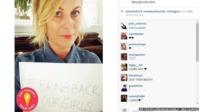 In addition to posting this image online, the Parks and Recreation star has been using her Smart Girls collective to raise awareness and encourage the public to support the campaign.
The group has been sharing video, organised a Google Hangout and tweeted pictures of children creating art in support of the missing schoolgirls.
Chris Brown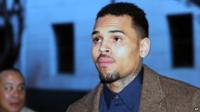 The musician, who is in jail at the moment, tweeted about the plight of the schoolgirls on 1 May.
"Nigerian girls ages 16-18 were kidnapped from their schools in Nigeria 2 weeks ago when an armed terrorist group broke into their school, shot the guards & kidnapped over 200 girls because they attended school. Lend a voice by asking authorities to #BringBackOurGirls," he wrote.
Hillary Clinton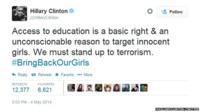 The former United States Secretary of State, the equivalent of the UK's foreign secretary, has tweeted her support and also spoken publicly about the capture of the girls.
"The seizure is abominable. It's criminal. It's an act of terrorism and it really merits the fullest response possible," she said.
Follow @BBCNewsbeat on Twitter and Radio1Newsbeat on YouTube